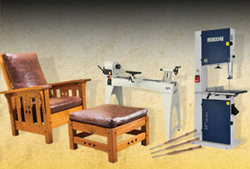 We wanted the woodworking community to share in our 10th anniversary celebration, so we teamed up with JET, Easy Wood Tools and Rikon to offer really good prizes for a sweepstakes.
PARKERSBURG, W. VA. (PRWEB) October 27, 2014
To celebrate 10 years of successful issues, plans and books, "Woodcraft Magazine" is sponsoring a "$10,000 Blockbuster Sweepstakes" from Nov. 1, 2014, through Jan. 31, 2015. Woodcraft Supply, LLC, the parent company of "Woodcraft Magazine," launched the woodworking publication with the December 2004/January 2005 issue.
"We wanted the woodworking community to share in our 10th anniversary celebration, so we teamed up with JET, Easy Wood Tools and Rikon to offer really good prizes for a sweepstakes," editor-in-chief Jim Harrold said. "We also have a blockbuster issue coming out in late November to begin our 11th year of providing woodworkers with super projects, helpful techniques and the latest products in our woodworking world."
Grand prize in the sweepstakes is a Morris Chair and matching Ottoman – projects in "Woodcraft Magazine" Issues 55 and 57 that are valued at $6,500. Both pieces were designed by Jeffry David Lohr, owner of JD Lohr Woodworking and the JD Lohr School of Woodworking at Schwenksville, Pennsylvania. Englishman William Morris built the first Morris Chair in the late 1800s. Lohr's version preserves the best elements of the changes made in style over the years while adding a few more, such as broad center splats with their eye-catching square openings and walnut buttons.
A sought after furnituremaker, Lohr produces original, one-of-a-kind and limited edition Arts & Crafts style furniture and significant contemporary free form and Live Edge furniture. Robert Spiece, author of both magazine articles, built the chair and ottoman. Spiece began as Lohr's apprentice and now teaches at his school. For information about both craftsmen, visit http://www.jdlohrschoolofwoodworking.com.
Second prize is a $1,959.96 package that includes a 14" JET Lathe (a new product), $1,599.99 retail value, and an Easy Wood Tools Mid-Size Turning Tools bundle, $359.97 retail value. JET's new variable-speed, 1 HP lathe operates from 400 to 3,000 RPM and features a headstock that pivots 360° with seven locking positions at 0°, 30°, 60°, 90°, 120°, 180°, and 270°. The Easy Wood Tools package includes a mid-sized rougher, finisher and detailer with carbide cutters and an easy-to-use design.
Third prize is an 18" Rikon Bandsaw, $1,299.99 retail value. This model has a powerful 2 HP motor with 3,280 ft./min. cutting speed and 13" resaw capacity.
Ten fourth prize winners will receive the "Woodcraft Magazine, Volume 1: The 1st 5 Years" CD that includes the content of the first 31 issues, including the one-time seventh issue published at Christmastime of the first year. Five fifth prize winners will each receive a one-year subscription to "Woodcraft Magazine."
Enter to win in one of three ways: visit the Woodcraft Store nearest you, visit http://www.woodcraft.com/10ksweeps to enter online, or enter by US mail. To enter by mail, use a 3" x 5" card and print by hand in black or blue ink your full name, complete home address including zip code, home telephone number with area code, and email address (if available). Mail the card in a first class stamped envelope to: Woodcraft Magazine 10k Sweeps, P.O. Box 7020, Parkersburg, WV 26102-7020, Attention: Kiah Harpool.
The Sweepstakes is offered only in the United States and the District of Columbia to legal United States residents at least 18 years old. Entries are limited to one per household. Winners will be selected in a random drawing on or before February 16, 2015, from eligible entries received by 12:00am midnight EST January 31, 2015.
In addition to publishing six issues a year, available in both print and digital formats, "Woodcraft Magazine" offers two lines of woodworking plans – Classic® Project Plans and Classic® Shop Plans, and has published three how-to books with a fourth book in the works. Magazine project and technique downloads are also available online, and a "Woodcraft Magazine" app allows the user to subscribe or purchase single issues. To learn more about the magazine, visit http://www.woodcraftmagazine.com and http://www.facebook.com/woodcraftmagazine.