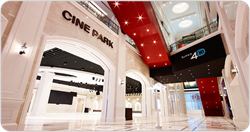 The complete cinema solutions will offer the best and the most lifelike visual and sensory cinematic experience for all movie patrons in Korea.
Seoul, Korea (PRWEB) November 05, 2014
Christie®, a global leader in digital cinema technologies, is proud to announce that its state-of-the-art cinema solutions have been installed in the newly opened Lotte Cinema World Tower in Seoul to provide the ultimate movie-going experience for its patrons.
Located in the highest landmark in Korea, Lotte World Mall, the Lotte Cinema World Tower is the largest multiplex in Asia with 21 theater auditoriums and over 4,600 plush seats for maximum comfort. Each theater, housed on separate floors, will have its own unique concept and interior design based on an "art movie city" theme. The screen in its 21st auditorium currently holds the Guinness World Record for the largest permanently installed 35mm cinema screen in the world, measuring an enormous 34 meters by 13.8 meters.
Lotte Cinema World Tower is also home to the largest 4D theater in Korea, equipped with dynamic motion seats and other special effects.
All auditoriums are complete with Christie digital cinema solutions, including the flagship Christie Solaria™ Series projectors, Christie Vive Audio™ surround sound systems, Christie ACT Digital Cinema Theatre Control and Christie Integrated Media Block (IMB). The installation of this extensive range of cinema solutions by Christie and its Korean partner Eugenetek Corporation is one of the biggest entertainment solutions projects undertaken by both teams in Korea.
Audiences can expect nothing but the best visuals from the Christie Solaria CP2215, CP2220, CP2230 and CP4230, which utilize the latest generation DLP® Cinema electronics platform. Among the seven auditoriums fitted with Christie Vive Audio, five are specially configured to meet Dolby® Atmos™ sound technology requirements. Filmmakers use Dolby Atmos to place and move sounds anywhere in the movie theatre, including overhead, to make film audiences feel as if they are inside the movie and not merely watching it. Rounding out the impressive list of installed products are the Christie ACT and Christie IMB solutions designed to provide the best performance and reliability in terms of theater automation control and content delivery.
Lin Yu, vice president, Christie Asia Pacific, said, "Christie is honored to work with Lotte Cinemas to have our most advanced and comprehensive range of cinema solutions installed in all auditoriums of Asia's largest multiplex. The audience can look forward to be wowed by our brilliant projection and audio systems that offer truly immersive and memorable experiences. Lotte Cinema World Tower is certainly one of the world's premier cinema destinations and we are proud to be a major part of this project."
"We're very excited to install an extensive range of Christie digital cinema solutions, including the Solaria Series projectors and Vive Audio cinema sound systems in our latest multiplex which ranks among the best in the world," said Gwan Ro Lee, executive director, Lotte Cinema. "Christie's visual and audio solutions are well known for their high quality and reliability that is backed by industry-leading service and support. We have utilized a number of Christie products at various locations and are confident that the complete cinema solutions fitted at our Lotte Cinema World Tower will offer the best and the most lifelike visual and sensory cinematic experience for all movie patrons in Korea."
Joon-Ho Lee, president, Eugenetek Corporation, commented, "Lotte Cinema World Tower is one of the biggest projects that we have ever embarked on and we are thankful to be given this opportunity to be involved in this major installation. We have worked closely with the team from Christie throughout this project and are proud to present the best-quality picture and sound to the audience with Christie's cutting edge cinema solutions."
The Solaria Series offers precise vivid color with superior contrast ratios and the light output necessary to light up even the largest auditoriums. The clear choice for any cinema exhibition environment, it is fully capable of providing the world's most brilliant images, the highest level of content security, the easiest adaptability, operation and maintenance. Fully DCI compliant, and built on Christie's extensive cinema experience, the Solaria Series is ready for the next evolution of digital cinema – displaying premium 4K content or 2D/3D 2K High Frame Rate (HFR) feature films and alternative content in its original format.
Complementing the stunning visuals is the innovative Christie Vive Audio, which offers rich, dynamic and detailed sound that unlocks the full potential of the DCI digital cinema audio format and supports leading formats such as Dolby Atmos, 7.1 and 5.1 surround sound. It consists of wall and ceiling surround speakers that use unique ribbon driver technology in a line array design, purpose-built for cinema environments. From the thundering roar of an airplane flying overhead to the delicate hums of insects in flight, the Christie Vive Audio system envelopes audiences with dynamic, detailed and captivating sound.
About Lotte Cinema
Founded in 1999, Korea's Lotte Cinema has grown to become a leading cinema chain with over 100 movie theaters and 674 projector screens throughout the country. In recent years, it has expanded its operations to China and Vietnam to further spread the joy and fun of movie viewing to more people in the region. For more information, go to http://www.lottecinema.co.kr.
About Dolby Atmos
Dolby Atmos makes it easy for filmmakers to place or move specific sounds anywhere in the movie theatre, including overhead. As a result of this multi-dimensional sound, audiences feel as if they are inside the film, not merely watching it. Introduced in April 2012, Dolby Atmos has been embraced by all the major Hollywood studios, seven Academy Award® winning directors, and 16 Academy Award winning sound mixers, among others. More than 650 Dolby Atmos screens have been installed or committed to in more than 40 countries with more than 150 exhibitor partners. More than 120 films from 12 different countries have been or are scheduled to be released with Dolby Atmos sound since the first film debuted in June 2012.
Dolby Atmos has received technical achievement awards from both the Hollywood Post Alliance and the Cinema Audio Society. As the inventors of the only object-based audio format used in the cinema today, Dolby is working closely with the Society of Motion Picture and Television Engineers in driving adoption of standards for object-based audio.
For the latest list of Dolby Atmos titles, visit dolby.com/atmosmovies. To learn more about Dolby Atmos, visit dolby.com/Atmos.
About Christie
Christie Digital Systems USA, Inc. is a global visual technologies company and is a wholly-owned subsidiary of Ushio, Inc., Japan, (JP:6925). Consistently setting the standards by being the first to market some of the world's most advanced projectors and complete system displays, Christie is recognized as one of the most innovative visual technology companies in the world. From retail displays to Hollywood, mission critical command centers to classrooms and training simulators, Christie display solutions and projectors capture the attention of audiences around the world with dynamic and stunning images. Visit http://www.christiedigital.com.
Follow us:
Facebook.com/christiedigital
Twitter.com/christiedigital
Christie® is a registered trademark of Christie Digital Systems USA, Inc., registered in the United States of America and certain other countries.
Christie Vive Audio™ is a trademark of Christie Digital Systems USA, Inc.
DLP® is a registered trademark of Texas Instruments.
Dolby® Atmos™ is a trademark of Dolby Laboratories.