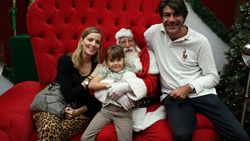 The lighting market is starting to awaken from the slumber of the last several years."
San Jose, CA (PRWEB) October 28, 2014
Xicato, enablers of the Internet of Lights, announced today the appointment of Giovanni Marafelli as regional sales manager for Southern Europe and Greece. Giovanni spent more than a decade with Cantalupi Lighting in Italy. His experience working with clients, contractors, architects, engineering companies and lighting designers will be of great value to Xicato's customers and end-users as the company continues to build an understanding of the need for more intelligent lighting solutions that deliver quality light.
"The lighting market is starting to awaken from the slumber of the last several years and I see a new and refreshed attitude in designers and end-users alike as they consider both the efficiency and the quality of light that they will select for their projects," said Giovanni. I chose to join Xicato because I think it's best positioned to deliver on both these factors.
Giovanni is a bit of a renaissance man. He holds degrees in mathematics and economics, speaks five different languages and has a passion for sailing, tennis and red wine. As much as he enjoys his visits to Xicato's headquarters in California where he can indulge in all three of these passions, his favorite moments are when he's with his family.
About Xicato
Xicato is enabling the Internet of Lights and empowering architects, designers and building managers to create beautiful, smart spaces people love to live and work in. We design and build intelligent LED modules that integrate the best quality and most efficient light with software, sensors and connectivity. With Xicato, spaces and buildings can be simply managed from anywhere, using any device. For further information visit: http://www.xicato.com.
Xicato's headquarters and manufacturing is based in Silicon Valley and the company has offices in China, Japan, Europe and the US. Founded in 2007, Xicato's focus on high quality light and reliability has won praise from the lighting community and end-users alike and was recently recognized as "Best Industrial Partner by the Professional Lighting Design Conference. Installations using Xicato range from retail and museums to restaurants and hotels. A gallery of installations can be found here.