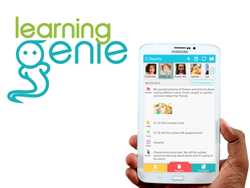 Learning Genie has improved the communication between teachers and parents in a tremendous way.
Sacramento, California (PRWEB) October 28, 2014
Learning Genie is a mobile app specially designed for preschools and home daycare providers. The app bridges the communication gap between teachers and parents while enhancing overall productivity. It's innovative software provides an easy way to record daily activities and portfolio assessments that can be shared with parents in just one click.
Since its inception in March 2013, Learning Genie has expanded its footprint from California to Arizona and Florida. This week, the team will be at the California Child Development Administrators Association (CCDAA) in Sacramento. To showcase the latest version of the app, now available in Google Play and the App Store, Learning Genie will be handing out exclusive invitation codes to conference-goers. If not attending the CCDAA conference this week, don't worry. Requests for exclusive invitation codes are taken through a brief form on the Learning Genie website.
Learning Genie, Inc. is a proud owner of an official license of Desired Results Development Profile (DRDP) from the California Department of Education. The app offers a special feature that similar parent engagement tools cannot tout—DRDP integration. Users can record portfolio assessments with DRDP tags, which makes for easy organization and report generation—cutting back on the stress that much of the state-required paperwork can cause.
In addition, Learning Genie's latest offering presents the following features, to name a few:
•A system that caters to a variety of needs of preschool providers—from home daycares to public preschool district or national chains
•An upgraded interface, complete with an in-app tutorial and demo class, which makes software easy to master with samples and practice—no computer skills needed
•Easy class setup and parent invites—just a tap away
•Simplified parent engagement—once signed up, parents are all set to receive reports, photos, reminders and more on a daily basis
Take it from Ms. Chrissy, a loyal Learning Genie user at Kids Care Club in California— "Learning Genie has improved the communication between teachers and parents in a tremendous way. […It] provides a way for teachers to document detailed information about each child without taking more time away from the classroom."
###
Learning Genie is a mobile app improving the lives of preschool teachers, directors and parents with the overall mission to empower better early learning. Implementing our app improves parent engagement and provides an easy way to record and share daily reports and portfolio assessments. Please visit http://www.learning-genie.com for more information and to add to the million+ activities logged to date.