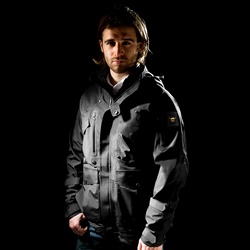 (PRWEB) October 28, 2014
Moosejaw, the outdoor retailer known for its quirky marketing, has quite simply made the best jacket in the world. The appropriately named "Royale Jacket" features leading-edge design, innovative features, and only the finest materials, constructed in Vancouver by legendary outdoor company Westcomb to Moosejaw's exacting specifications. Only 50 of these unique pieces will be produced.
"One day earlier this year, I got tired of our designers complaining about budget constraints," explained Moosejaw's CEO, Eoin Comerford, "so I told them to throw cost aside and simply design the best jacket ever."
So what makes this the best jacket ever? Well, it starts by being the most versatile jacket ever – a 5-in-1 that can be worn as waterproof hooded shell, a non-hooded shell, an insulated hooded shell, insulated non-hooded shell, or an insulated jacket. Much thought was given to how the jacket functions in each mode. For example, the shell has zippered pass-thrus to the pockets of the insulator, and the removable hood stores perfectly in the back game pocket.
Of course, only the best materials were good enough for the Royale. The fully seam-taped shell utilizes Schoeller®'s revolutionary c_change™ waterproof breathable fabric, along with waterproof Vislon® zippers, and magnetic snaps. The insulator sandwiches 950-fill Hungarian goose down between an outer shell of windproof Pertex® and inner lining of Toray®.
"I'm pretty sure we thought of everything," adds Steve Fife, Moosejaw's Chief Merchant. "The jacket has thirteen pockets in all, including special pockets for your phone and harmonica. We even include a personalized harmonica in case yours is in for cleaning."
With the finest design and materials, the only remaining factor was the highest quality fabrication. For this, Moosejaw partnered with Westcomb, a premium outerwear manufacturer based in Vancouver, Canada. For almost a decade, Westcomb has been producing some of the highest quality North American-made outerwear for their own brand and other premium brands.
Those lucky enough to live near one of Moosejaw's 11 retail locations will be able to see The Royale during one of its tour stops. Actually touching The Royale will require velvet gloves (gloves will be provided if visitors do not have the forethought to bring their own).
Ok, it's the best ever… now how do you buy one? With only 50 being made, it's not as simple as shelling over the $1,500 price tag. Instead, potential buyers must complete an application that includes questions on royal lineage and philanthropic activities. Only the fortunate few will be chosen to possess one of these individually numbered pieces of apparel history.
To fill out an application, find more information, or just stare at The Royale longingly, please visit Moosejaw.com/Royale.