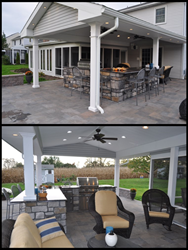 Customers enthusiastically say EWBN are the best in the industry.
Leola, PA (PRWEB) October 24, 2014
EWBN LLC is a company located in Leola, Pennsylvania with skills in construction, hardscape, and landscape. By specializing in all of these areas, it makes them an ideal business for creating outdoor living areas. Reuben Stoltzfus, owner of EWBN, and his family dedicate their careers to building any style indoor and outdoor living structures and facilities. With 30 of experience in both landscape and construction, they are sure to create an outdoor living area you will enjoy.
Customers enthusiastically say EWBN are the best in the industry. EWBN helps unlock the potential of the client's property by transforming regular spaces into fun and exciting places to relax and unwind with family and friends.
EWBN LLC assisted Barry and Kathy F. with creating an outdoor living area where they entertain their guest throughout the hot days of summer and also throughout the rainy days of spring and fall. Kathy F. said:
"From the time we begin to plan, there was a lot of communication and input. We felt that everyone in EWBN heard what we were saying and when it came to ensuring to have the outdoor living area we envisioned. We felt everyone involved with the project wanted to ensure this is the space we wanted."
EWBN's goal is to serve their customers, give them a great experience all the through the project. They believe working with contractors should not be an awful experience. The employees ensure customer satisfaction with the quality of the workmanship. Through consistent communication and a name that is well respected, EWBN will meet any project's need.
Media Contact
Sam Stoltzfus
717-556-0741
info(at)ewbn(dot)net