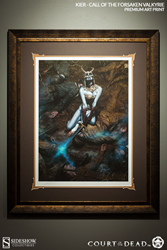 Thousand Oaks, CA (PRWEB) October 25, 2014
Sideshow is proud to announce the launch of a premium art print collection from the expansive worlds of Marvel, DC Comics, and Sideshow's own original property, Court of the Dead™. The dynamic and engaging artwork curated for this new program finds its genesis in the designs that inspire Sideshow's world-renowned statues and figures.
Over the years Sideshow has collaborated with talented illustrators to create incredible two-dimensional representations of celebrated pop-culture icons, as well as the unique offerings of Sideshow's own original characters. Artists will include Ariel Olivetti, Stanley 'Artgerm' Lau, Kris Anka, Scott Forbes, Fabian Schlaga, and David Palumbo - just to name a few.
Each prestigious print will be highly limited, featuring the penciled artist signature, hand numbering, and a unique emboss for authenticity. Select art prints will be further enhanced by spot gloss varnish and custom framing.
Sideshow's premium art print program will launch on October 27th at 10am EST with three initial offerings: 'Spider-Woman' from Marvel; 'Gotham Sirens - Poison Ivy' from DC Comics; and 'Kier: Call of the Forsaken Valkyrie' from Sideshow's own Court of the Dead™ property.
Stay tuned for future announcements from this line as we delve into favorite characters and themes. To see the current prints available and to place your order, please visit: http://www.sideshow.com/art
For a video sneak peek at the Court of the Dead™ offerings in this line, please visit:
http://www.sideshow.com/courtart
========================
About Sideshow Collectibles
In 1994, Sideshow Collectibles embarked on a mission of connecting people with their favorite characters and icons from the worlds of film, television, comic books and popular culture. Today, we are a specialty manufacturer and distributor of the most highly sought after licensed and original collectible products, sustained by a passionate worldwide community that is committed to the lifestyle of collecting figural art. Our headquarters are located in Thousand Oaks, CA.
To learn more about this release, please contact -
Tara Duffy, Marketing Coordinator
2630 Conejo Spectrum Street
Thousand Oaks, CA 91320
Office: 805-214-2135
tara.duffy(at)sideshowcollectibles(dot)com
Website: http://www.sideshowcollectibles.com
Facebook: https://www.facebook.com/sideshowcollectibles
Twitter: https://twitter.com/collectsideshow