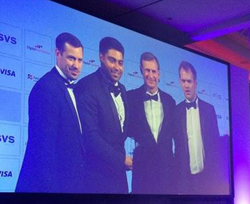 Our technology delivers layered security to protect account and transaction data.
London, UK (PRWEB) October 25, 2014
On October 23, more than 750 industry leaders gathered at the Lancaster Hotel in London to champion quality, excellence and innovation in payment technology around the world. Carta's Host Card Emulation (HCE) and tokenization technology received the top award for NFC payment solutions.
As a software-based solution, HCE allows an NFC enabled device to emulate a card to make secure, contactless transactions without the need to access a hardware Secure Element (SE). Carta's HCE technology sits within a modular technology stack that has been hailed as "the world's most technologically advanced digital transaction platform." Carta's award-winning software is being used by industry leaders in banking, including Banco Sabadell and Westpac.
Brian Semkiw, CEO of Carta Worldwide, commented, "We are very pleased to receive the 'Best Contactless Solution' award. It is an exciting time for Carta and mobile payment adoption. This award only confirms that Carta's HCE and tokenization technology is in a class of its own."
Carta's Chief Technology Officer Rui Mendes added, "HCE is a technology breakthrough for NFC-based mobile payments. Our technology delivers layered security to protect account and transaction data. We're excited to be recognized for our leading role in NFC and contactless payments, and even more excited for the next innovations that we'll be announcing soon."
About Carta Worldwide
Carta Worldwide is an award winning, international leader in digital transaction technology, specializing in mobile and emerging payments. Leading innovation in advanced solutions for tokenization and cloud based mobile payments like Host Card Emulation.
To find out more about Carta Worldwide and their digital transaction technology - which includes Tokenization, Digital Credential Management, Host Card Emulation (HCE), NFC & Cloud Based Payments, Simplified Issuer Connectivity, Global Issuer Processing - visit http://www.cartaworldwide.com. Carta will also be present a Money2020 this year at booth #700.