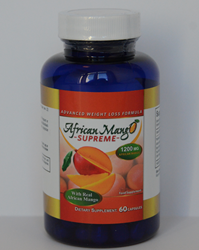 Clinical Studies show African Mango Extract helps people lose as much as 18% of body fat, and 7 inches from their waist.
Orem, UT (PRWEB) October 28, 2014
African Mango Supreme is a healthy natural supplement designed to help people lose weight, and Escape The Matrix is pleased to announce their own formulation, available at http://africanmangosupreme.com
"We are excited about this formulation," says Dave Sherwin, owner of Escape The Matrix. "Increasingly, people are looking to natural solutions that help them overcome the battle of the bulge, and African Mango Supreme is formulated to help them lose weight, even if they don't diet or exercise." He adds.
Clinical studies on African Mango extract have proven favorable to African Mango as a weight loss aid, key takeaways of the research showing:
-Individuals taking the fruit lost an average of about 28 pounds, as well as nearly 7 inches from their waist.
-Their body fat was reduced by 18.4%. This study shows that the individuals who took the extract lost significantly more weight than those who took the placebo.
They also showed:
-Significantly Greater Weight Loss
-Significantly Greater Inches Lost from Waist
-Significantly Reduced Body Fat
-Significantly Lowered Cholesterol
-Significantly Lowered Blood Glucose Levels
The African Mango Supreme formula contains 1200 MG African Mango Extract, along with supportive products such as Maqui Berry, Acai, and Green Tea, among others.
"This formulation is designed to provide African Mango Extract in conjunction with other natural fat burning and and general wellness ingredients to give not only a fat burning effect, but natural energy, nutrition, and appetite suppression." Says Dave Sherwin, Founder of Escape The Matrix LLC.
The product is available through the website at http://africanmangosupreme.com
Also, interested affiliates are encouraged to apply for the affiliate program at http://escapethematrix.net/affiliate-program/
African Mango Supreme is available in the US, Australia, Great Britain, and 14 other countries. A 60 day money back guarantee is offered, customers who return the product within 60 days will receive a full refund if unsatisfied for any reason.