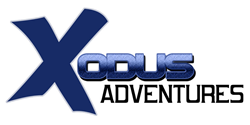 Building healthy community one body, mind, & spirit at a time!
Grand Junction, Colorado (PRWEB) October 24, 2014
Xodus Adventures is proud to announce a national community effort for fitness, wellness, and readiness throughout the nation. The company has launched a national effort to support communities and their families to become fit, well, and ready through teaching simple techniques, stewardship of the environment, and social well-being. As the backdrop of a farming, ranching, and outdoor adventure community nestled in the mountains near Grand Junction, CO, owner Kalvin Evans is dedicated to helping communities transform into thriving areas of adventure as well as becoming ready for life's unexpected events.
Xodus Adventures was founded in 2006 by Kalvin and Elisabeth Evans after both serving in the United States Air Force. Since moving out to Colorado from Maryland back in 2007, Kalvin functions as the Owner and Lead Trainer for the business. Former winner of Discovery Channels' "One Man Army" in 2011, Kalvin Evans has used his influence to help youth, adults, and families reach fitness and wellness goals contributing to the local community. The inspiring goal for Xodus Adventures is to have youth, adults, and families become active in home communities across the nation in fitness, wellness, and readiness for life's unexpected scenarios.
The program will utilize social media, videos, tele-conferences, webinars, speaking engagements, retreats, and adventure camps to encourage individuals and families to help facilitate transforming their communities. Located close to the North Fork of the Gunnison River along the Western Slope of Colorado featuring beautiful scenery, the largest concentration of organic farmers in Colorado, hunting, outdoor adventure activities, and one of the best fly-fishing areas in the nation. The health modalities will include fitness outdoor bootcamps, callanetic core classes, osteopathy, massage therapy, weight loss, gardening fresh locally grown organic produce, and numerous opportunities for leadership training for participants who want to share with communities these important tools.
There will be retreat programs as well as adventure camps for youth that will provide participants with an opportunity to spend much needed time enjoying the beautiful mountains and fresh air in a safe haven atmosphere filled with support.
For more information about this topic, or to schedule an interview with Kalvin Evans, call 970.903.6894 or email @ xodusadventures(at)gmail(dot)com.