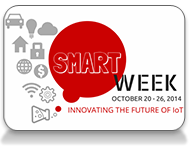 Great minds with big ideas make things happen.
Toronto, Ontario (PRWEB) November 06, 2014
Christie® served as Innovation Lab Sponsor for SMARTWEEK 2014 in Toronto, October 24-26. The event took Toronto by storm, bringing the brightest minds, inventors, and industry leaders to the city for the first time together to advance the Internet of Things (IoT) and to experience Machine-to-Machine (M2M) communications. Kitchener-based Christie lit up their work using powerful and versatile interactive visual technologies in the Department of Computer Sciences (DCS) Innovation Lab at the University of Toronto's Gerstein Science Information Centre.
What began as an idea to host SMARTWEEK in one major city has expanded across the globe, either as a joint or independent event.
"This 'storm' is beyond anything I ever imagined. The vision was to create a one-day event to explore emerging smart technologies and strategies that are shaping our connected world and challenging us all to see how IoT and M2M are transforming our lives every day. This is now a three-day event, with global offshoots," said SMARTWEEK 2014 co-founder and lecturer, Helen Kontozopoulos.
"Our lineup of speakers and sponsors for SMARTWEEK were among the most respected in the industry and we were excited to be live streaming many of the conference sessions and offering them post-event on YouTube. We were grateful for Christie's technology support, which lets us showcase creative interactive digital content — including renderings created by Mulvey & Banani architects — to illustrate to potential funders the type of computer science department the University of Toronto envisions for its students and industry researchers. Our aim is to make the university, Toronto, and Canada a polestar for Internet of Things where great minds with big ideas make things happen."
Christie technology in the DCS Innovation Lab included:
A 4 by 6 Christie® MicroTiles® array with Christie Jumpstart content management solution which allows the display of multiple, high-bandwidth video files, graphics.
Christie Interactivity Kit is a distinctive solution for adding multi-touch interactivity to any digital display. It allows multiple users to interact simultaneously with content on Christie MicroTiles or any video wall using finger touch gestures.
Two Christie FHD651-T 65 inch LCD flat panels and one Christie QUADHD 84 inch flat panel.
Mario Grech, SMARTWEEK co-founder, University of Toronto alumnus, lecturer and co-creator, (with Kontozopoulos), of the Department of Computer Sciences' "The Business of Software" course, said, "We are seeing the entrepreneurial ecosystem, government, higher education and industry intersect with IoT at a level where Canada is ideally positioned as a technology hub for this exploding segment of the high tech sector. I returned to Toronto after years in the Silicon Valley to bring its culture of entrepreneurial innovation and creativity to my alma mater through lecturing, seed-funding and growing the Department of Computer Science's innovation engine into one to be envied around the world."
John Hallman, senior director of Canadian sales at Christie, said, "SMARTWEEK brings together industry leaders, startups and thought leaders from a global technology sector that is experiencing explosive growth. As a visual and audio technology solutions leader, Christie is at the forefront of innovation in IoT commercialization and pleased to showcase industry-leading ideas and the university's vision for its computer science department lab of the future on bright, large-format visual displays."
On October 26, Mark Barfoot, managing director, Hyphen Services, a division of Christie, participated in 'Creating IoT: 3D Printing and Prototyping,' a Smart Industry-themed panel session exploring rapid and distributed prototyping and bespoke manufacturing. Attendees learned how improved tools and connectivity connects people to printers and printers to assembly lines.
Live streaming was online at http://www.smartweek2014.com/
About Christie
Christie Digital Systems USA, Inc. is a global visual technologies company and is a wholly-owned subsidiary of Ushio, Inc., Japan. Consistently setting the standards by being the first to market some of the world's most advanced projectors and complete system displays, Christie is recognized as one of the most innovative visual technology companies in the world. From retail displays to Hollywood, mission critical command centers to classrooms and training simulators, Christie display solutions and projectors capture the attention of audiences around the world with dynamic and stunning images. Visit http://www.christiedigital.com.
Follow us:
Facebook.com/christiedigital
Twitter.com/christiedigital
"Christie" is a trademark of Christie Digital Systems USA, Inc., registered in the United States of America and certain other countries.
Christie® MicroTiles® is a registered trademark of Christie Digital Systems USA, Inc.