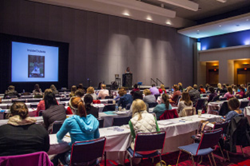 With the 3S Symposium being sold out, we are excited that we can provide these great presentations to individuals unable to attend.
(PRWEB) October 28, 2014
The Sensory Processing Disorder Foundation is excited to announce that on November 11, the Foundation's Sensory Processing Disorder (SPD) University will broadcast select presentations from the 17th annual International 3S Symposium. The sold out educational event will be held November 7-8 in Tempe, AZ, The broadcast will feature select presentations from distinguished speakers including Dr. Lucy Jane Miller, Dr. Elysa Marco, Dr. Susan Bayzk, Dr. Alice Carter and more as they discuss the latest findings in SPD research, tips for practice management and strategies to use in schools and clinics. For more information visit http://www.spduniversity.org.
"With the 3S Symposium being sold out, we are excited that we can provide these great presentations to individuals unable to attend, " said Sheryl Benjamin, Executive Director. "The 3S Symposium is gaining popularity as a major conference because of the caliber of the speakers and topics."
The Foundation has recently expanded its programs with both online live and recorded educational programs for both professional and lay audiences. This includes the Signature Lecture Series launched in September.
The next in the Series is a live broadcast featuring author Carol Stock Kranowitz, presenting 'The Out-of-Sync Child - An Overview of SPD' on November 10 from 7:30 p.m. to 9:00 p.m. EST. Kranowitz has been a preschool teacher for more than 25 years and writes and speaks regularly about SPD. Recent broadcasts available now are two very informative Signature Lecture Series presentations -- Stephanie Capshaw's 'Overview of SPD for Educators' and Dr. Kay Toomey's 'Helping the Picky Eater at School.' Also available is Dr. Toomey's popular lecture, 'Surviving the Holidays with a Picky Eater' in which she discusses helping picky eaters thrive and families manage the busy Halloween, Thanksgiving, Hanukkah and Christmas holiday seasons. Upcoming lectures will include prominent leaders in the field of SPD.
The Sensory Processing Disorder Foundation provides an impressive online School Readiness / Assessments Series of workshops covering numerous pediatric assessments available for evaluating children. The next live webinar will be broadcast on October 28 from 12:00 p.m. to 2:00 p.m. EST -- part one of a new two-part Assessments Series titled 'How Can We Identify Infants At Risk for ASD or SPD? Quality of Movement Indicators' focuses on the implications of early motor dysfunction in children with neurodevelopmental disabilities, such as ASD and SPD. Other assessments include Overview of Pediatric Assessments, M-FUN (Miller Function and Participation Scales), and Social/Emotional Scales and Clinical Co–Morbidities.
For National Sensory Awareness Month in October, the Foundation released two new courses for parents, caregivers, clinicians, teachers, mental health and medical professionals. Overviews of Postural Disorder, Dyspraxia, and Sensory Discrimination Disorder are now available online. 'A Sensible Approach to Sensory Processing Disorder: Postural Disorder' describes the characteristics of children with Postural Disorder through the use of therapy footage and a review of key principles related to identification of problem areas. 'A Sensible Approach to Sensory Processing Disorder: Sensory Discrimination Disorder' explores Visual, Auditory, Tactile, Proprioceptive, and Vestibular Discrimination Disorders, sharing helpful activities.
Educational programs through the Foundation's SPD University support its mission of increasing understanding of SPD through education and conducting rigorous research. Its programs are developed by the leading authorities on Sensory Processing Disorder. The e-learning courses for professionals and parents are available 24/7. Visit http://www.spduniversity.org.
ABOUT SENSORY PROCESSING DISORDER FOUNDATION
The Sensory Processing Disorder (SPD) Foundation, a Colorado 501(c)(3), is the world leader in research, education, and awareness for Sensory Processing Disorder, a neurological condition that disrupts the daily lives of more than 4 million Americans. The SPD Foundation offers educational programs, conducts SPD research, and provides resources for parents worldwide. Dr. Lucy Jane Miller, widely recognized as a leader in SPD research worldwide, founded the SPD Foundation in 1979. The SPD Foundation provides hope and help to individuals and families living with SPD. For more information, visit SPDFoundation.net or call 303-794-1182.