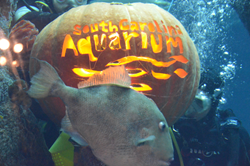 Charleston, S.C. (PRWEB) October 25, 2014
Something that has never been seen before is happening right here in the South Carolina Lowcountry. Divers at the South Carolina Aquarium are carving a 120-pound pumpkin-- underwater! Unlike years past, when divers carved several small pumpkins, divers worked together on Friday to create a massive underwater masterpiece in the Aquarium's Great Ocean Tank.
Click here for photos
Click here for video
It took more than 30 minutes for the divers to carve the designs into the large pumpkin, which came from Charleston's Legare Farms. Designs included bonnethead sharks and the South Carolina Aquarium logo. Underwater carving serves as a form of enrichment for the animals that live in the Great Ocean Tank. The activity offers a form of stimulation and introduces new, fun objects into their environment.
The next massive underwater carving will take place on Halloween, Oct. 31 at 11 a.m. The extraordinary underwater carving experience is included with Aquarium admission. For more information call (843) 577-FISH (3474) or visit scaquarium.org.
Fast Facts:

Divers carved one of the largest pumpkins in the Lowcountry (weighing 120-pounds) underwater in the Great Ocean Tank.
Underwater pumpkin carving serves as a form of enrichment for animals living in the Great Ocean Tank.
A second underwater carving featuring a 120-pound pumpkin will take place on Oct. 31, at 11 a.m.
The demonstration is included with general admission to the Aquarium
About the South Carolina Aquarium:
The South Carolina Aquarium, Charleston's most visited attraction, features thousands of amazing aquatic animals from river otters and sharks to loggerhead turtles in more than 60 exhibits representing the rich biodiversity of South Carolina from the mountains to the sea. Dedicated to promoting education and conservation, the Aquarium also presents fabulous views of Charleston harbor and interactive exhibits and programs for visitors of all ages.
The South Carolina Aquarium, a 501(c) (3) not-for-profit organization and is open daily from 9 a.m. to 5 p.m. The Aquarium is closed Thanksgiving Day, half day Dec. 24 (open 9 a.m. to 1 p.m.) and Dec. 25. Admission prices are: Toddlers (2 and under) free; Youth (3-12) $17.95; Adults (13+) $24.95. The Aquarium plus the 4-D Theater experience is free for Toddlers, $22.95 for Children, $29.95 for Adults. The 4-D Theater experience only is $6.95 for Children and Adults, and free for Members. For more information call 843-720-1990 or visit scaquarium.org. Memberships are available by calling 843-577-FISH.
###