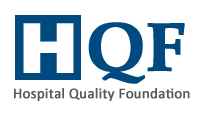 Shrewsbury, NJ (PRWEB) October 27, 2014
The Hospital Quality Foundation (http://www.hospitalqualityfoundation.org), a not-for-profit organization dedicated to improving hospital care, today announced the initiation of its patient registry study in non-ST-segment-elevation myocardial infarction (NSTEMI) called UPSTREAM: An ED-Based Clinical Registry. This observational, non-interventional study aims to address the data gap regarding the course of NSTEMI treatment between Emergency Department (ED) arrival and diagnostic angiography in detail, by characterizing and following the ED and peri-ED use of oral antiplatelet agents.
In addition to exploring ED treatment patterns and evaluating success of both ischemic and bleeding risk stratification prior to definition of the coronary anatomy, data captured via the UPSTREAM registry will tie ischemic and bleeding outcomes to pre-catheterization antiplatelet therapy in the management of NSTEMI. This registry further seeks to demonstrate specifically that contemporary use of upstream ticagrelor is associated with a smooth transition of care into the outpatient setting. Finally, it will allow characterization of patient selection factors and processes for ticagrelor vs alternative agents, through a descriptive comparison at hospital discharge.
Up to 75 sites in the United States will participate, and the enrollment target is 2,000 subjects who complete a 30-day course of ticagrelor that was initiated prior to angiography. UPSTREAM Principal Investigator Charles V. Pollack, Jr., M.D., pointed out that, "We know that acute coronary syndrome is a very dynamic pathologic process, and emergency physicians are ideally positioned to use pharmacologic interventions, such as advanced oral antiplatelet therapy, to stabilize the process prior to angiography. In UPSTREAM we will evaluate the success of such an approach, against a background of comprehensive analysis of clinical parameters available to the provider at the time the therapy is given. By analyzing time from treatment to angiography and definitive ACS management as a continuous variable, we can also start to evaluate whether there may be time-sensitivity of NSTEMI care, as we know there is for STEMI."
The launch of UPSTREAM coincides with the release of updated guidelines from the American College of Cardiology and American Heart Association regarding the management of NSTE-ACS, which for the first time offers drug-specific guidance regarding oral antiplatelet therapy, including a specific Class IIa (Level of Evidence B) recommendation for the use of ticagrelor in preference to clopidogrel in patients treated with an early invasive strategy and/or coronary stenting.(1) In addition, ticagrelor also has a Class I recommendation for the treatment of patients with NSTE-ACS undergoing early invasive management and/or coronary stenting. The registry will also lend prospective data to support (or question) strategies by hospitals aimed at reducing 30-day readmissions after NSTEMI.
Sites seeking to learn more about participating in UPSTREAM should send an inquiry by e-mail to upstream(dot)registry(at)gmail(dot)com, or visit http://www.hospitalqualityfoundation.org/upstream.
UPSTREAM is supported through a collaborative research grant from AstraZeneca Pharmaceuticals (Wilmington, DE; http://www.astrazeneca-us.com). The registry is listed on ClinicalTrials.gov as protocol NCT02271022.
About The Hospital Quality Foundation
The Hospital Quality Foundation is a 501(c)(3) not-for-profit organization of healthcare professionals dedicated to improving the management of patients in the hospital and across transitions of care. As a leading source of professional education and a respected voice in the ongoing movement to improve hospital care and transitions out of the hospital, it is the mission of the HQF to provide insight, information, and guidance to hospital-based clinicians. In addition to conducting registry research, HQF has created a group of resources that includes CE programs, white papers, pharmacoeconomic analyses, clinical tools, interactive case studies, and thoughtful analyses of best practice approaches written by leaders in hospital and emergency medicine.
Reference
1 Amsterdam EA, Wenger NK, Brindis RG, Casey DE Jr, Ganiats TG, Holmes DR Jr, Jaffe AS, Jneid H, Kelly RF, Kontos MC, Levine GN, Liebson PR, Mukherjee D, Peterson ED, Sabatine MS, Smalling RW, Zieman SJ. 2014 ACC/AHA guideline for the management of patients with non–ST-elevation acute coronary syndromes: a report of the American College of Cardiology/American Heart Association Task Force on Practice Guidelines. Circulation. http://circ.ahajournals.org/content/early/2014/09/22/CIR.0000000000000134, accessed 10/25/14.