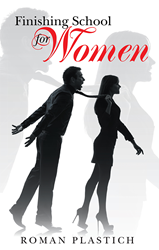 Treat relationships like cooking.
TORONTO (PRWEB) October 28, 2014
Relationships fail for a variety of reasons. What if the solution was as simple as doing some research before making the commitment? This could save months even years of time, not to mention the avoidance of emotional damage.
Roman Plastich has written a straightforward guide that pushes people to analyze the best relationship for their individual needs and wants. Plastich caters his guide to women, revealing information men wish women knew and providing women information to take charge and achieve the relationships they deserve.
Through personal stories and self-reflective quizzes, "Finishing School for Women" provides tools, insights, and strategies that help couples find common grounds and work towards a common goal.
"Treat relationships like cooking," Plastich said. "If you want a certain meal you follow a certain recipe. If you want a certain relationship you follow certain steps—it's really as simple as that."
This guide encourages everyone, especially women, to stop repeating bad choices and staying in unsatisfying relationships. With Plastich's guidelines, both women and men can obtain the relationship they want.
"Finishing School for Women"
By Roman Plastich
ISBN: 978-1-4917-3164-2
Available in softcover, hardcover, e-book
Available on Amazon, Barnes & Noble and iUniverse
About the Author
Roman Plastich was raised in Eastern Europe before immigrating to Canada. He has two children with his former wife. Plastich currently lives in Toronto, Ontario.