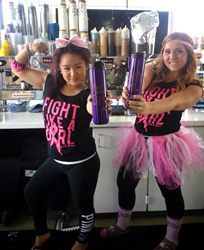 Dutch Bros. can't wait until October is just October.
GRANTS PASS, Ore. (PRWEB) October 26, 2014
For Breast Cancer Awareness month Dutch Bros. Coffee has been selling "Be Aware" travel mugs and raised $222,240 for the Knight Cancer Institute at Oregon Health & Science University (OHSU).
All 233 Dutch Bros. Coffee locations in seven states sold the "Be Aware" mug in honor of Breast Cancer Awareness month. For every mug sold, Dutch Bros. Coffee donated $5.
"I think it's super impactful what Knight Cancer Institute has organized. We are fortunate enough to be able to participate in supporting research that will change future treatment of cancer," said Travis Boersma, Co-Founder of Dutch Bros. Coffee.
The $1 billion Knight Cancer Challenge was launched in 2013 after Nike Co-founder Phil Knight and his wife, Penny, pledged $500 million for cancer research if OHSU raised an equal amount by February 2016. The $1 billion investment will allow the OHSU Knight Cancer Institute to hire top scientists and their teams, or about 200 to 300 researchers, to collaborate on improving methods to identify cancer at its earliest and most curable stage, and to move the most promising new detection methods and treatments from the laboratory to clinical trials as quickly as possible.
"We are deeply grateful to Dutch Bros., all of their customers and employees for supporting the Knight Cancer Challenge and the significant contribution their efforts will make in advancing breast cancer research," said Lisa Coussens, Ph.D., associate director of basic research at the OHSU Knight Cancer Institute. "These funds will help us pursue the most promising research more quickly and, ultimately, bring new hope to breast cancer patients."
All Dutch Bros. locations in seven states participated. To find a Dutch Bros. near you, visit http://www.dutchbros.com/locations.
###
About Dutch Bros. Coffee
Dutch Bros. Coffee is the country's largest privately held, drive-through coffee company, with over 230 locations and over 2,500 employees in seven states.
Serving specialty coffee drinks, smoothies, freezes, teas and a private-label Dutch Bros. Blue Rebel™ energy drink, Dutch Bros. is known for a special focus on its communities and customers.
Dutch Bros. Coffee was ranked by J.D. Power and Associates as highest in customer satisfaction compared to other coffee companies in its 2012 and 2013 Specialty Coffee Retailer Satisfaction Reports.
The company and its local owner-operators donate over $1 million annually in an effort to achieve their goal of, "Making a difference, one cup at a time."
Dutch Bros. Coffee is headquartered in Grants Pass, Ore., and was founded in 1992 by dairy farmer brothers of Dutch descent. To learn more about Dutch Bros., visit http://www.dutchbros.com, http://www.facebook.com/dutchbros or @DutchBros on Twitter.