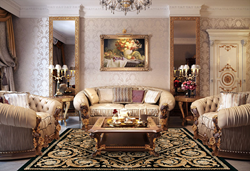 San Diego, CA (PRWEB) October 28, 2014
Gorgeous rugs has just released their fall collection of beautiful silk, handmade luxury rugs. Gorgeous rugs offers beautiful handmade, silk rugs that customers can order from the comfort and convenience of their own homes. Gorgeous Rugs offers many sizes and styles for every room in the house. All of their rugs use the finest, pure caterpillar silk and are completely hand-weaved to perfection. The result is heirloom quality craftsmanship, built to last a lifetime.
About Gorgeous Rugs:
They Use the Finest Silk on Earth
After years of traveling to find the finest silk available their buyers came upon a small village deep in the orient. They were thrilled to find a community of expert sericulturalists producing silk quite unlike anything else on the market. This treasury of rare cultivated silk is the softest and most luminous material available today and is widely considered the finest material for rug making.
They Employ the Most Experienced Weavers
In love with their find of rich, brilliant pure silk, the company was driven to find the finest weavers to create outstanding rugs while maintaining very high, unparalleled ethical standards. It is with great pleasure that they formed collaborative partnerships with local craftspeople, and this is when Gorgeous Rugs began its exciting enterprise of curating the best of silk, artists and craft.
They Offer the Most Intricate Designs
Their remarkable curated collections of handmade rugs are conceived by master designers and artists. The highly skilled team of weavers work for two to three months on each rug, producing textile masterpieces of unsurpassed detail, brilliance and vibrancy.
To see all of the rugs offered by Gorgeous Rugs, please visit their website http://www.gorgeousrugs.com