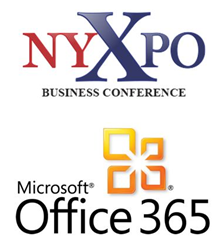 Moving business applications to the cloud has proven benefits. But business leaders may have questions about functionality, the migration process or where to start.
Hoboken, New Jersey (PRWEB) October 27, 2014
eMazzanti Technologies, a New York City area IT consultant, today announced an exclusive learning opportunity for NYC area businesses attending the 10th Annual NYXPO for Business. During a special hands-on session at the event, attendees will have the opportunity to explore all of the benefits of Microsoft Office 365 for business.
The NYXPO conference will be held Thursday, October 30, 2014, at the Jacob K. Javits Convention Center. The hands-on Office 365 evaluation will be available in the Keynote Pavilion from 9:00 am to 12:00 pm only.
"Moving business applications to the cloud has proven benefits. But business leaders may have questions about functionality, the migration process or where to start," stated Jennifer Mazzanti, President, eMazzanti Technologies. "This will be an opportunity for decision makers attending NYXPO to determine if Office 365 is right for their organization."
Event Details
Hands-on Office 365 experience at NYXPO, Thursday, October 30th, 9:00 am-12:00 pm
eMazzanti will be offering specials on migrations to Office 365 at the event.
The Hands-on Office 365 experience at NYXPO will be facilitated by eMazzanti's certified Microsoft Experience Center facilitators. Attendees will get a sneak peek into the capabilities of Office 365 and have the opportunity to register for one of eMazzanti's exclusive Office 365 training events the following week.
Office 365 for businesses puts the familiar Microsoft productivity tools on the cloud, providing anywhere access to email, documents, spreadsheets, databases and presentations. Office 365 includes SharePoint, a cloud based file sharing system that allows users to edit documents in a web browser, create intranet sites, databases, announcements and other useful materials.
Business leaders attending the 2014 NYXPO will also enjoy the opportunity to see and hear Carl Mazzanti, CEO, eMazzanti Technologies. He will be featured at the Business Management Track, ModernBiz education session from 3:00 pm to 4:00 pm in room #4. Mazzanti will speak on the topic: "Your All-Access Pass to the Industry's Most Stylish and Sophisticated Technology Yet."
In addition to attending high-level business education sessions, conference-goers will assess the latest products and services from over 250 vendors, including eMazzanti Technologies, harvest ideas to meet competitive challenges, develop stronger relationships with prospects and learn from the nation's top business leaders.
Get Promo Code for free admission to NYXPO.
Other related resource information:
eMazzanti Offers Hands-on Microsoft Office 365 Experience to NYC Area Businesses
eMazzanti CEO to Spotlight "Stylish and Sophisticated" Business Technology at NYXPO
About eMazzanti Technologies
eMazzanti's team of trained, certified IT experts rapidly deliver cloud and mobile solutions, multi-site implementations, 24×7 outsourced network management, remote monitoring and support to increase productivity, data security and revenue growth for clients ranging from professional services firms to high-end global retailers.
Serving more than 400 Hoboken, NJ, NYC area and international customers, eMazzanti is Microsoft's 2012 Partner of the Year and 2013 Northeast Region Partner of the Year, a 5X WatchGuard Partner of the Year and has made the Inc. 5000 list five years running. Contact: Carl Mazzanti 201-360-4400 or emazzanti.net Twitter: @emazzanti Facebook: Facebook.com/emazzantitechnologies.
Download the free article: How to Select an IT Provider here.