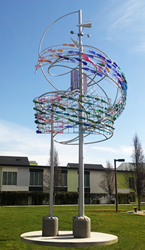 SAN JOSE, Calif. (PRWEB) October 27, 2014
As far as Silicon Valley artist and businesswoman Marta Thoma Hall is concerned, the process of designing a sleek new line of headphones or updating the look of Velodyne Acoustics' popular high-performance subwoofer is no different than creating, say, a piece of sculpture.
A very large piece of sculpture.
Recently, the president of the Morgan Hill-based manufacturer of high-performance audio equipment completed the installation of Brain Works, a 30-foot-high steel and glass sculpture that resides with other public works of art in and around Bestor Art Park in San Jose's Martha Gardens community, a mixed-use neighborhood located adjacent to the San Jose State Foundry and the Art Arc hub. In 2010, the City of San Jose and San Jose State University commissioned a citywide competition to create a landmark sculpture for the neighborhood, and Hall's design was selected.
Brain Works is an abstract celebration of the role of the human brain in creating art and a tribute to the local art community. Three vertical steel poles form the shoulders and neck and hold up a head forged of curved steel. Inside the abstract head, a steel web and swirling grid comprised of colorful recycled bottles and a nest of spoons in the shape of a brain synapse symbolize creative energy, thought and inspiration. Solar-powered LED lights and the sound of the sculpture in the wind combine to create an entirely different experience at night.
"Brain Works is a tribute to both the Martha Gardens and local arts communities," Hall said. "The people who live in the neighborhood donated their time, contributed money and collected many of the bottles, spoons and other materials that comprise the details of the piece. In that sense, it truly is a work of public art. At the same time, it also is a celebration of the creative process that has its basis in the wonderful yet mysterious workings of the human brain."
Brain Works is only the latest in a series of commissioned pieces created by Hall, who uses discarded materials to create her art. Journey of a Bottle (2011), her first to use steel and recycled glass bottles, is installed in the lobby of the main branch of the Walnut Creek Public Library. Earth Tear (1989), an 8-foot, teardrop-shaped sculpture made from discarded plastic bottles that once contained tequila mix, is installed at the Recology Sculpture Garden in South San Francisco. Water Source (2011) consists of multiple sculpture created for display at the City of Goodyear, Arizona's community water park and uses steel, glass, fiberglass and solar equipment to celebrate the importance of water and the adjacent Gila River. Hall also created Cosmos Clock, a kinetic sculpture activated by sunlight and commissioned by the University of Florida.
At Velodyne, Hall isn't the only "artist." Founder and CEO David Hall, Marta's husband, provides the technical expertise and innovation that has over the past 30 years has made Velodyne Acoustics a respected name in consumer electronics and, more recently, LiDAR sensors used in developing autonomous vehicles and servo mechanisms that create a smoother ride for watercraft.
"We have a mutual enthusiasm for the visionary and creative," Marta Hall said. "I approach product design as sculpture and think about intention and emotion. I make composition, shapes, form, line, movement, texture and materials to suit emotion. David addresses function to ensure that Velodyne headphones have strong bass and clean, pure sound, and that they are light and comfortable on the head. The process is the same whether you are designing a 30-foot sculpture, a painting or a pair of headphones."
About Velodyne
Founded in 1983 and based in California's Silicon Valley, Velodyne Acoustics is a diversified technology company known worldwide for its high-performance audio equipment and real-time LiDAR sensors. The company is widely recognized as the leading manufacturer of high-performance, low-distortion, powered subwoofers and an expanding line of technically innovative in-ear and over-ear audio products, which include interchangeable, custom-designed skins that enable audiophiles to personalize the look of their headphones. Velodyne products are available online at http://www.velodyne.com and from a select group of authorized dealers, custom installers and distributors worldwide. Since 2007, Velodyne's LiDAR division has emerged as a leading developer, manufacturer and supplier of real-time LiDAR sensor technology used in a variety of commercial applications including autonomous vehicles, vehicle safety systems, 3D mobile mapping, 3D aerial mapping and security. For more information, visit http://www.velodynelidar.com. For the latest information on new products and to receive Velodyne's newsletter, register here.