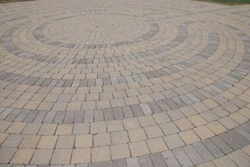 The labyrinth is a meditative tool for people to reflect and gain insight on themselves and their paths
Palm Beach Gardens, FL (PRWEB) October 27, 2014
Throughout history the labyrinth has been used as a symbol of peace and spirituality. Artists, philosophers and clergymen have used it to quiet thoughts and expand their horizons. Besides medical and therapeutic recovery, A New Day Treatment Center offers holistic healing as well. Holistic treatment incorporates the mind, body and spirit in the recovery process and provides those seeking recovery with a better chance of success. The facility's new mediation labyrinth is responsible for the mind and spirit.
"The labyrinth is a meditative tool for people to reflect and gain insight on themselves and their paths" explains Trauma Specialist Kristie Slinskey "it is essentially a singular path created by bricks and stone, it has one entrance, no exit and all the inspiration in the world." The purpose of the path is to allow the walker to distract a busy mind with a simple task. Walking the labyrinth has been known to clear one's mind and help them find answers or spiritual guidance. A New Day has utilized this tool to help clients with stress and trauma.
After a long day of treatment and trauma therapy many clients have found solace in this beautifully landscape backyard labyrinth. One alumnus swears by this ancient tool. "It saved me from my own thoughts and took away all my anxiety… and I'm ALWAYS anxious." The labyrinth is private and closed off from the rest of the office to create an area for clients to reflect and process their feelings without interruption.
The introduction of this therapeutic tool has given A New Day's clients a new outlet for their emotions. The technique of self-soothing and creating ones own serenity is a tool A New Day wants their clients to leave with. "It is a powerful tool for reflection and introspection," explains Executive Director Mark Keegan.
This isn't the first enhancement for A New Day in recent history. Along with the labyrinth A New Day has also introduced a few other innovative tools in treatment this year. Institution of biofeedback therapy and EMDR treatment have given birth to a new and exciting way to treat addiction. This company remains revolutionary in their treatment of substance abuse and has shown no signs of slowing down.
A New Day Rehab provides addiction treatment for drugs and alcohol in Palm Beach Gardens, Florida. The treatment center offers multiple programs including those specific to men or women as well as a specialty in dual diagnosis treatment. If you would like more information about the drug rehab in Florida offered at A New Day, contact 888-991-3386 or go to: http://www.ANewDayRehab.com