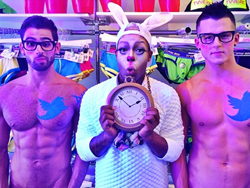 WeHo is a Wonderland, a busy place with lots to see and do, but save a second for safety, it could save your life.
West Hollywood, CA (PRWEB) October 24, 2014
The City of West Hollywood is launching a comprehensive crosswalk safety campaign aimed at encouraging drivers and pedestrians to pay more attention to crosswalks and to devote less time to digital distractions, such as text messages, emails, and social media. The campaign will include a catchy music video, Alice in WeHoLand, as a Public Service Announcement (PSA), which will be released on YouTube and on the City's website on Tuesday, October 28, 2014. The campaign also includes a series of outdoor, print, and online advertising.
"It's important that everyone remember the 'stop, look, and listen' rule when enjoying our city," said West Hollywood Mayor John D'Amico. "WeHo is a Wonderland, a busy place with lots to see and do, but save a second for safety, it could save your life. Give a wink or a wave and cross safely. You might just get a date out of it or meet the White Rabbit over the rainbow."
To kick-off the City's crosswalk safety campaign, a launch event will take place on Tuesday, October 28, 2014, at 6 p.m. at The Abbey Food & Bar, located at 692 North Robertson Boulevard. The event will be free and open to the public. Members of the West Hollywood City Council will be in attendance and there will be a screening of the Alice in WeHoLand video.
"Over the last year we have been taking a number of steps to improve pedestrian safety in West Hollywood," said Mayor Pro Tem John Heilman. "One of the components of that effort is our new education campaign. We hope the exciting video and educational advertising will increase awareness for pedestrians and drivers alike."
The crosswalk safety video, Alice in WeHoLand, was produced by the City's Public Information Division and conceived by YouTube sensation Todrick Hall, a singer, actor, director, choreographer, and dancer who rose to the semi-finals of American Idol in its ninth season. He received international acclaim for his creative role in the CLIO Award-winning safety video for Virgin America airlines and he has just signed a deal with MTV for a new unscripted series. His YouTube Channel features his music-inspired projects and has a loyal following of devoted fans with more than 1.1-million subscribers.
Alice in WeHoLand is a humorous West Hollywood-themed parody of Taylor Swift's hit song Shake It Off, which broke Billboard records by entering the Hot 100 chart at No. 1. The dance-filled video offers viewers a colorful twist on Alice's Adventures in Wonderland set to new crosswalk safety lyrics, written by Hall, about curbing smartphone use and walking and driving safely. The video features a vibrant cast of characters with drag queens, gym-bunnies, models, go-go boys, and fierce dancers who perform a pulsating choreographed routine in West Hollywood's iconic Rainbow Crosswalks, as well as other recognizable locations in the City.
"This particular campaign shows the power that new social media has in educating a group that is hard to reach through traditional means," said Councilmember John J. Duran. "Pedestrian safety education is important enough for us to think of innovative ways like this to reach out to our younger residents and visitors."
Dozens of dancers, models, and actors appear as characters in Alice in WeHoLand, including: renowned drag queen Willam Belli as Alice; Todrick Hall as White Rabbit; Andrew Christian models Jon Varak as Mad Hatter, Pablo Hernandez as Tweedle Dee, and Murray Swanby as Tweedle Dum; Glee's Alex Newell as March Hare; YouTube personality Davey Wavey as himself; actor/model Steven Dehler as himself; model/fitness trainer Ronnie McNaughton as himself; and reigning "Queen of YouTube" GloZell as herself. Alice in WeHoLand will debut on Tuesday, October 28, 2014, at 12 p.m PDT on Todrick Hall's YouTube channel: http://www.youtube.com/todrickhall. A link will be posted on the City's website, http://www.weho.org.
In addition to the Alice in WeHoLand safety video, the City launched a comprehensive public safety media campaign in early October. This includes transit-shelter ads located throughout the City of West Hollywood and large electronic and traditional billboards on Santa Monica Boulevard, the Sunset Strip, and key gateway locations for West Hollywood.
The crosswalk safety campaign reflects the education component of a coordinated three-part pedestrian safety plan for "Engineering, Education, and Enforcement," which is currently being implemented by the City.
For more information about pedestrian safety, including safety tips, visit http://www.weho.org/pedestriansafety.
For additional information about the crosswalk safety campaign, please contact Lisa Marie Belsanti at (323) 848-6378. For people who are deaf or hard of hearing, please call TTY (323) 848-6496.