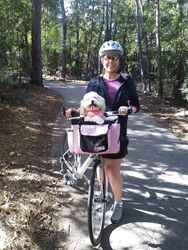 The Woodlands, Texas (PRWEB) October 25, 2014
Team Sound Defense Cyclists to ride with the thousands participating in the 42nd Annual BikeHouston Moonlight Ramble. Team Sound Defense rides about 4 times a week and is looking forward to the Ramble, which supports BikeHouston's efforts to make Houston a bike-friendly community by promoting public awareness, education, safety and much more. Team Sound Defense members ride around 2,500-3,000 miles a year, so public awareness and cyclist's safety are foremost in their minds.
BikeHouston is a non-profit organization and proceeds from the Ramble support BikeHouston and their efforts. The Ramble begins at the George R Brown Convention Center in downtown Houston on October 25th, at 11:59 pm Saturday evening. Ramblers can ride an 8-mile or 20-mile route through downtown Houston. For more information visit: bikehouston.org/moonlightramble/
Team Sound Defense cyclists are geared up and ready to ride the Ramble this Saturday evening. "This is the seventh year John, and I have participated in the bike ride, and it's always a fun event. A great bike ride for a great cause. I believe that education and cyclist's safety are important, and we are all excited to be participating in the Ramble. There's a lot to contend with out there on the road."- Leah. This year's team members include Leah Stephens riding with one of her dogs, Daisy, a small shih tzu, John Stephens, and Becky Garner. Daisy rides in a bicycle basket designed for dogs. "Although Daisy has difficulty getting around on foot she looks forward to her bike rides each week and I am sure she is looking forward to the Ramble. Bike riding is an enrichment activity for her. She loves it and even complains when I fall behind in our regular rides. She likes to be first in line!"-Leah. Team Sound Defense plans on riding the Moonlight Bike Ramble's 20 Mile route.
Sound Defense, LLC founded in 2009 is located just outside Houston in The Woodlands. Sound Defense manufactures the patent pending Sound Defense K9 Warning Device and its accessories. The K9 Warning Device is an audible dog repellent device. Aggressive, chasing dogs are a difficult problem for many cyclists and runners. Sought after and used around the world the Sound Defense K9 Warning Device helps keep aggressive, chasing dogs at a safe distance.