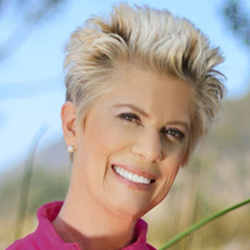 Pasadena, California (PRWEB) October 28, 2014
Deborah King, a New York Times best-selling author and the world's foremost authority on energy healing, was the featured speaker at I Can Do It! 2014 Pasadena, the premiere West Coast conference for personal spiritual development. The conference, sponsored by the world's leading spirituality and self-empowerment publisher, Hay House, was held at the Pasadena Civic Auditorium and Convention Center on Saturday, October 25, 2014.
Deborah King presented "Meet the Master Healer: Get Activated Now!," an interactive hands-on workshop. Drawing upon concepts featured in her New York Times best-selling book Be Your Own Shaman and on her website http://www.DeborahKing.com, Deborah led guests on a transformative exploration into the power of energy medicine.
In a fun, experiential workshop format, guests were given the practical techniques they need to use energy to ignite powerful personal transformation. Activities included contacting spiritual guides, exploring past lives, amplifying chakra energy, and connecting with higher vibrational frequencies. Deborah demonstrated how to use ancient spiritual practices to improve the quality of modern life, removing emotional blocks to happiness and stirring profound spiritual growth. Deep healing at the DNA level paves the way for incredible abundance in all spheres of life, including financial prosperity, freedom from depression, successful relationships, deep inner peace, and exuberant joy.
Deborah King is a well-known inspirational leader in the field of energy healing and modern spirituality, regularly appearing as a guest expert on major network news programming, including ABC, NBC, CBS, and FOX, as well as venues like Access Hollywood and E! Entertainment Television. She is also a popular presence across social media, with more than 200,000 followers on Twitter, Facebook, and Instagram.
Deborah connected directly with the public in the workshop, as audience members joined Deborah on stage for personal guidance and healing. The exciting, highly participatory event was designed to awaken attendees' innate ability to heal, thrive, and grow, transforming their own lives for the better.
Other speakers at this weekend-long gathering included noted authors Dr. Wayne W. Dyer, Doreen Virtue, Dr. Christine Northrup, and many others.
For more information, please visit Deborah's website at http://www.deborahking.com.
About Deborah King:
Deborah's King's uplifting life story has inspired millions to transform their own lives with the power of energy medicine. After a devastating cancer diagnosis halted a successful legal career, Deborah experienced a full remission with the help of an energy healer. This transcendent intervention opened Deborah's eyes to the world of spiritual healing, launching a journey which would enable her to beat illness and addiction. She soon became a popular motivational speaker, spiritual teacher, and life coach, penning New York Times best-selling Be Your Own Shaman, Truth Heals, and Entangled In Darkness. Her website, http://www.DeborahKing.com, offers groundbreaking workshop training, educational downloads, and a wealth of insightful blogs to the public. Deborah's accessible, compassionate message encourages all people to cultivate the inner strength necessary to lead happy, loving, and fulfilling lives.