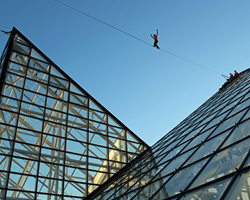 "There has never been an urban highline event like this before." - Edward Yates
Chattanooga, Tennessee (PRWEB) October 25, 2014
Eat your heart out Spider-Man, you're not the only one who can traverse a city skyline on a web. World-class highliner Edward Yates used a nylon webbing system to cross Chattanooga's signature skyline – the glass peaks above the Tennessee Aquarium. "There has never been an urban highline event like this before," said Yates. "I have always loved the Tennessee Aquarium and this has been a dream of mine for my life."
Yates proposed this spectacle as a unique feature of the 2014 RiverRocks Adventure Sports Games. Similar to tightrope walking, but accessible to anyone, slacklining and highlining are trending outdoor sports. Edward's performances fit perfectly with the spirit of the RiverRocks Adventure Sports Games. This celebration brings world-class and amateur athletes together to celebrate Chattanooga's unsurpassed adventure sports. "Like paddle boarding, climbing, kayaking or skateboarding, slacklining and highlining are sports that are open to anyone at any age," said Yates. "This is also a sport that can help anyone improve their focus, balance and core fitness."
Chattanooga has become an international destination for world-class and amateur athletes alike who flock to the city to participate in everything from hang-gliding to the recent IRONMAN Chattanooga triathlon. The RiverRocks Adventure Sports games features competitive athletic events like bouldering, trail running, cycling, kayaking, swimming and rock climbing. This year slacklining and highlining are demonstration events, but Yates hopes the Scenic City will one day have a slacklining park to add to its seemingly endless menu of outdoor activities. "This is an exciting sport that will challenge you in so many ways, just like many of the other world-class events we have here in Chattanooga," said Yates.
This cutting-edge performance will be repeated on Saturday, October 25th, at 11a.m., 1 p.m. and 3 p.m prior to the RiverRocks Finale. After nearly a month of outdoor competition the public is invited to join many of the athletes for a celebration in Chattanooga's Coolidge Park. Live performances by The Bohannans, Rye Baby and The Wood Brothers begin at 5pm. There will also be climbing, slacklining and Acro yoga demonstrations.
The Tennessee Aquarium inspires wonder, appreciation and protection of water and all life that it sustains. Admission is $26.95 per adult and $16.95 per child, ages 3-12. Each ticket purchased helps support Aquarium conservation programs. The IMAX® 3D Theater is next door to the Aquarium. Ticket prices are $9.95 per adult and $8.50 per child. Aquarium/IMAX combo tickets are $32.95 for adults and $22.95 for children. Excursions aboard the new River Gorge Explorer depart daily into "Tennessee's Grand Canyon." Cruise tickets are $32.00 per adult and $24.50 per child (3-12). Advance tickets may be purchased online at http://www.tnaqua.org or by phone at 1-800-262-0695. The Aquarium, located on the banks of the Tennessee River in Chattanooga, is a non-profit organization. Open every day except Thanksgiving and Christmas, the Aquarium and IMAX are accessible to people with disabilities.