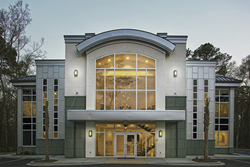 Bluffton, SC (PRWEB) October 27, 2014
Dr. Frederick G. Weniger, M.D., M.B.A, F.A.C.S., announced that LUX Medical Spa has won the Excellence in Design award at the recently-held ASID Carolinas Fall Conference. J Banks Design Group, Inc. won the prestigious award for their interior design work on the LUX Medical Spa space. The design firm took home first place in the healthcare category of buildings over 7,000 square feet in size.
LUX Medial Spa is owned and operated by Dr. Weniger and Carmen A. Traywick, M.D., of May River Dermatology, LLC. The medical spa is located at 350 Fording Island Rd, suite 101, in Bluffton. The mission is to be the premier choice for medical aesthetics and skin enrichment services such as Botox, dermal fillers, laser hair removal, wrinkle reduction, and sun spot reduction. LUX has been recognized as the premier medical spa in the Lowcountry.
Jessica Deckert Long, Marketing and Outreach director for LUX Medical Spa, May River Dermatology, and Weniger Plastic Surgery, said the award showcases the fact that top of the line health care located in a premier, state-of-the-art facility is achievable and should be celebrated in the Lowcountry.
"The businesses of LUX, May River Dermatology and Weniger Plastic Surgery along with the dedication from J Banks Design are able to provide the most advanced medical practices in the area into a building where patients feel comfortable, safe, and luxurious as they receive the most experienced medical care and highest level of customer service," said Long.
The LUX Medical Spa was designed with the comfort and privacy of patients in mind. The spa takes pride in offering a safe, relaxing experience for the body, mind and spirit so patients can age gracefully.
Dr. Weniger is double board certified by The American Board of Plastic Surgery and The American Society for Aesthetic Plastic Surgery. Weniger Plastic Surgery offers such treatments as body contouring, facial rejuvenation, reconstructive surgery, arm lifts and breast enhancement.
More information about Weniger Plastic Surgery can be found at http://www.wenigerplasticsurgery.com.
Contact:
Weniger Plastic Surgery
350 Fording Island Road - Suite 200
Bluffton, South Carolina 29910
(843) 757-0123