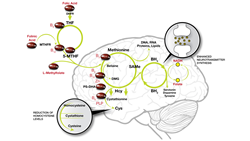 "We are committed to moving the educational discussion forward in both the healthcare and public arenas," states Angela Hall, JayMac Pharmaceuticals
Sunset, LA (PRWEB) October 28, 2014
Do you know someone with Treatment Resistant Depression, Alzheimer's/dementia, Autism/ASD, diabetes, cardiovascular disease, or a history of repeated miscarriages or neural tube defects? Recent estimations are that at least 60% of the U.S. population have genetic enzyme deficiencies that are the underlying causes of these issues. These are switches in DNA that not only increase the risk for many serious, chronic illnesses and pregnancy difficulties, but impede response to pharmacological treatment. In an article entitled "MTHFR Mutation: A Missing Piece in the Chronic Disease Puzzle," Naturopathic Physician and Author, Bianca Garilli, ND explains, ["In many ways, MTHFR function provides important clues to the risk of developing particular diseases, and to the etiology of seemingly unexplained or unexpected symptom patterns." (HolisticPrimaryCare.Net Vol. 13, No. 2. Summer, 2012). Although the MTHFR (Methylenetetrahydrofolate Reductase) enzyme deficiency is the most common and most studied, there are others that may need addressing in the clinical setting. Leading expert, Andrew Farah, Chief of Psychiatry of the High Point Division of UNC Healthcare, covers this topic in a recently recorded podcast with JayMac Pharmaceuticals.
Some highlights include:
1. What is the MTHFR enzyme deficiency and what are the other most common polymorphisms?
2. Why do these make it harder to respond to treatment and recover from stressful events-even from childhood?
3. In what diseases/disorders are they most prevalent?
4. What can be done if one or more of these genetic variants is found?
There is a huge demand for the discussion so far, with the company emailing it to over 800 health care providers. The podcast is brief and informative, and Dr. Farah is available personally for follow up questions. "We are committed to moving the educational discussion forward in both the healthcare and public arenas," states Angela Hall, JayMac. For a copy of this podcast, or for questions about EnLyte, contact Diane Pratt, EnLyte Sales Manager, at 985-788-7755/dianeenlyte(at)gmail(dot)com