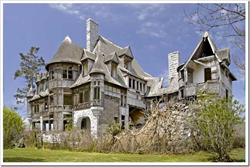 No one ever said owning a home was easy. What difference could a few ghosts make?
Pompano Beach, FL (PRWEB) October 27, 2014
TopTenRealEstateDeals.com has the frightening details and scary photos of the world's top 10 haunted homes, ghost towns and castles now for sale.
"Top 10 Haunted Homes For Sale"
Tales of grisly murders surround the old place and the hairs on the back of the neck stand up as the facade of the creepy old manse comes into view. Is that a 'For Sale' sign swinging slowly in the wind, through bursts of lightning? Do the walls of the master bedroom bleed at midnight, like people say? Or is it really just a classic Victorian, remodeled with contemporary fixtures and appliances and priced to sell? Are those bumps in the night dead demons walking the halls or the bass from the newly installed full-house stereo system?
Looking for a new home that is a bit different than the two-story colonial with a white picket fence, two-car garage, pool and lush lawn? This year's "Top 10 Haunted Homes For Sale" list has ten bone-chilling listings that will terrify even the bravest home buyer! Perhaps a classic castle in Transylvania? The castle that inspired Bram Stoker's Dracula and the dungeon home of Vlad the Impaler is for sale at only $78 million.
How about one of the most beautiful estates in the United States; a beautiful mansion for $12 million with dramatic Lake Michigan views that some people say has been haunted since the high society owner killed himself in 1941. What about the world's largest ghost house with 110 rooms for $20 million? A Colorado ghost town for $2 million? Or a Staten Island mansion with tales of mysterious fires, multiple suicides, crying ghost children and a grisly mob hit? No one ever said owning a home was easy. What difference could a few ghosts make?
Real estate is never boring at TopTenRealEstateDeals. Check out today's most entertaining and unusual real estate news stories of the week. News such as "Famous Murder Homes For Sale," "Celebrity Haunted Homes," and "Scary Haunted Hotels."
Visit TopTenRealEstateDeals.com for more celebrity, historic, famous and 'spooktacular' homes for sale.
Top 10 Haunted Homes feature available to media outlets for publication. TopTenRealEstateDeals home photos available at: http://bit.ly/toptenmedia