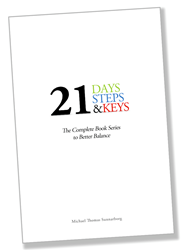 Finding balance is returning to a natural state that's already within you.
Minneapolis, MN (PRWEB) November 04, 2014
Tired? Stressed out? Lost that sense of balance? The truth is that nothing is lost. The trick is how to access what's already within.
"Finding better balance is returning to a natural state," says Michael Thomas Sunnarborg, author of 21 Days, Steps & Keys: The Complete Book Series to Better Balance. "We are born in a state of equilibrium, but as we age and become distracted by the fears of the world, we begin to stray from our innate sense of well-being. We can return to better balance by removing the barriers and blockages within us, many of them created by our own thoughts and behaviors."
Sunnarborg's book introduces a 3-step process to kick-start the journey toward better balance—whether it's balance in work, relationships, or personal life:
Step 1: Awareness. The powerful human consciousness is absorbing and processing everything in its environment—sights, sounds, and smells—24 hours a day. In order to find better balance, one must become aware of the factors that influence balance. Themes include: Thoughts, Feelings, Intuition, Fear, Communication, Power, and Choice.
Step 2: Alignment. Alignment happens both on the inside and outside. Internally, this means being conscious of thoughts, feelings, and intuition so that behaviors reflect true values. Externally, this means that over time, attitudes, actions, and words are closer to one's fundamental beliefs. Themes include: Relationships, Truth, Intention, Purpose, Trust, Listening, and Appreciation.
Step 3: Activation. Activation puts theory into practice and thoughts into motion. Without activation, good ideas are only ideas. Activation is the key to implementation and the third step to finding better balance. Themes include: Focus, Softening Your Stance, Boundaries, Perspective, Living Your Passion, Gratitude, and Managing the Leader Within.
21 Days, Steps & Keys gives busy professionals and anyone hungry for better balance simple bite-size nuggets of inspiration, paired with thought-provoking questions and simple "to-do" activities, to guide readers toward making healthier choices. Readers can even create their own balance plan to assist them with changing any aspect of their lives. Print and digital books are available at 21complete.com, Amazon.com, and other online retailers.
Michael Thomas Sunnarborg is an educator, author, and life coach, whose passion is to help people reclaim their power of choice and find better balance in their work, relationships, and life. You can follow Michael on Facebook and Twitter (@21daystobalance), or find our more about Michael and his adventures at michaelsunnarborg.com