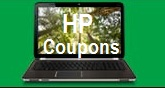 Savvy online shoppers can save up to 20% or more on HP products with these newly released discount coupons.
(PRWEB) October 26, 2014
New discount coupons from HP are listed on the Bizwaremagic.com site which features a handy online Laptop Buyer's Guide for its visitors and subscribers. As an ongoing part of this guide, the 12-year small business site regularly presents all the latest discount offers from major computer manufacturers/retailers such as HP or Hewlett-Packard.
In the recent batch of coupons, which runs from Oct. 26th to Nov. 1st 2014, alert shoppers can save up to 20% or more on popular Hewlett-Packard laptops, PCs and printers. Discounted items are often limited, and these sales may end at any time so check the official HP site for all terms and conditions.
New coupons include the following: Save 20% instantly on the purchase of configurable PCs priced at $999 or greater at the HP Home and Home Office Store. Get $120 off on the purchase of the HP ENVY - 15t with Windows 7 for around $729. Receive $150 off the HP ENVY - 15t Touch Laptop for only $749.99.
Desktop coupons include the following offers: Save $220 on the purchase of the HP ENVY 700xt with Windows 7 which is priced at $679.99. Get $200 off the HP ENVY Recline - 23xt Touch All-in-One PC for around $949.
Special offers on Hewlett-Packard printers include the following: Get 30% off the HP LaserJet Pro 400 MFP M425dn for around $349 and save $130 off the Color LaserJet Pro MFP M476nw which is discounted at $399.99.
Using these online coupons are a great way to save money on the purchase of any computer product. Potential buyers only have to click the appropriate link and /or supply the coupon code at checkout to obtain their savings.
The dedicated Bizwaremagic HP Notebook Coupons page can be found here: http://www.bizwaremagic.com/HP_Notebook_Coupons.htm or download our comprehensive free laptop buying guide here: http://www.laptopcomputerguide.org All products/companies mentioned above are registered trademarks of their respective owners and companies.