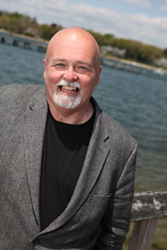 Brooklyn, New York (PRWEB) October 27, 2014
Four candidates for Governor of New York debated Wednesday night in Buffalo. The candidates included Republican Rob Astorino , incumbent Democrat Andrew Cuomo, Green Howie Hawkins and Libertarian Michael McDermott.
"I rest my case" said McDermott, referring to the Democrat and Republican opening statements, "When you listen to my opponents you don't know who to believe".
McDermott continued, "The Democrats and Republicans are the problem. The Libertarian platform is about the people. It's about the Constitution it's about doing what's right and what's fair… We have to reduce taxes and we have to get government down to within its Constitutional size."
On the issues, the major party candidates seemed to be shifting toward traditional Libertarian positions, including tax reductions, marriage equality and medical marijuana which have long been fundamental parts of the Libertarian platform.
McDermott urged voters to listen to the candidates not as Democrats and Republicans but rather as New Yorkers. "The Democrats and Republicans are the problem. We have to get the people back into power. Vote Libertarian this one time."
Libertarians contend that the majority of people support both economic freedom and personal freedom and that limiting the choice to Democrats and Republicans forces voters to choose the candidate they dislike least. A Gallup poll indicates that 42% of Americans self-identify as political independents, far more than Democrats (31%) or Republicans (25%).
According to a George Mason University analysis New York ranked dead last in voter turnout in the 2010 gubernatorial election at just 32% of eligible voters. Absence of choices that reflect their views may be the cause of growing voter disengagement.
Third parties face an uphill battle. Under New York State election law, once a candidate for Governor receives 50,000 votes, any future candidates from that party face much less stringent requirements in order to appear on the ballot.
Otherwise, depending on the office, candidates must collect thousands of signatures.
Libertarians contend the "enforcement deck" is stacked against them - or any outside third party, for that matter - eliminating new voices and possible new solutions.
Many contend there is political favoritism and uneven enforcement. Enforcement rests primarily with Boards of Elections controlled almost entirely by Democrat and Republican political appointees, so it is the foxes guarding the hen house, so to speak.
Libertarians won a ballot access victory in court on Friday over incumbent New York State Senator Carl Marcellino (R-5th District). Marcellino and several of his staffers sought to have Gigi Bowman, the Libertarian candidate for State Senate, Fifth District, which covers portions of Long Island's north shore in Suffolk and Nassau Counties, removed from the ballot by filing a challenge to her qualifying petition.
On September 29, the Nassau Supreme Court denied Bowman's motion to dismiss for late service, and granted her motion to transfer the case to Albany County. On Friday, October 24, the New York Supreme Court, Appellate Division, Third Department reversed that denial and ruled in favor of Bowman (Wilson et al. v. Bowman, 3rd Dept. Index No. 519828).
Gary Donoyan, attorney for Bowman, said "Senator Marcellino's petition to invalidate Gigi Bowman's candidacy failed to meet the very strict requirements for timely service that everyone else must meet. The Nassau Supreme Court should have tossed this case out weeks ago. We are grateful to the Appellate Division, Third Department for upholding the law and reversing the Nassau Supreme Court's decision."
Despite obstacles, McDermott says his message of empowerment is gaining traction. He says "response to the debate has been positive and overwhelming. I'm predicting a big surprise on election day."
Michael McDermott's Upcoming Campaign Appearance:
Tuesday, October 28
6:30-9:00pm
Meet the candidate Night
Hosted by Half Hollow Hills PTA Council
Half Hollow Hills High School.
50 Vanderbilt Pky,Dix Hills NY 11746
High School East Cafeteria
Candidates Will Be Presenting Their Platforms Starting At 7pm.
http://events.longisland.com/meet-the-candidate-night.html