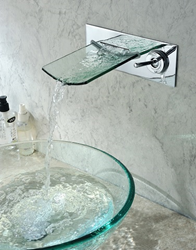 Most bathroom faucets do only one thing, but a good novelty faucet adds extra functionality, whether it's a thermostatic control, motion activation, or simply a more flexible installation.
(PRWEB) October 30, 2014
HomeThangs.com – the Online Home Improvement Store has made their goal to deliver the right product to the consumer. With that in mind, shopping and home design tips, as well as special product selections are being introduced.
In general, novelty items don't exactly have a reputation for being well made, high quality, or particularly useful. But once in a while a good gimmick can actually turn out to be useful. HomeThangs.com has introduced a guide to five different types of novelty faucets that are actually worth having.
LED faucets started out as a cool kid-friendly gimmick. Small bulbs built into the faucet illuminate when the water is turned on, lighting up the water and making it change colors. But when the color changes based on the temperature of the water, an LED faucet can stand in for an anti-scald valve (and acts as a nice visual indicator for when the water has warmed up). These temperature sensing lights can also be built into the handle of the faucet, making it easy to set the faucet to the desired temperature.
Motion activated faucets used to only show up in public restrooms, but new sleek, stylish models are a great water-saving option for the home. Plus, the hands-free activation can help reduce the spread of germs, too.
Variable height faucets are among the most unusual faucets, both in terms of appearance and in their rarity. But these faucets have the unique ability to pair with a vessel sink of any size or shape. Since they can be easily adjusted to match a different size or shape bowl to prevent splashing, they're one of the only types of faucets that make it possible to change out a vessel sink without also replacing the faucet. Similarly, wall mounted waterfall faucets, while certainly novel in terms of appearance, are actually a smart choice for small bathrooms or powder rooms, as they don't take up precious counter space.
For more details about these surprisingly useful novelty faucets, check out the full article here.
HomeThangs.com is not only a home improvement superstore, it also provides expert design tips and a comprehensive shopping guide, taking the ideas from professional interior designers, and offering tips to the consumers on how to pick the products to best suit their needs.