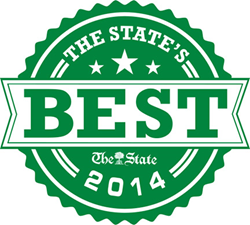 North Charleston, SC (PRWEB) October 26, 2014
George Sink, P.A. Injury Lawyers has been in business in South Carolina for over 35 years. During that time, Founding Attorney George Sink and his team have helped more than 35,000 injured and disabled people navigate their legal journeys. In recognition of the firm's longstanding commitment to clients and exceptional legal service, George Sink, P.A. Injury Lawyers was voted the "Best Law Firm" in the state by readers of The State newspaper in 2014. Readers also voted Attorney George Sink "Best Attorney" in the newspaper's Best of 2014 polls.
The State newspaper is a widely read and respected publication based in Columbia, South Carolina. Each year, the paper conducts a poll for readers to vote on who they believe to be the best in their respective field. In The State's Best of 2014 poll, readers were able to cast votes in over 165 categories. The firm was voted "Best Law Firm" by readers. Attorney Sink also took home "Best Attorney" in the first year The State included the category.
Recognition as the Best Law Firm and Best Attorney by The State newspaper readers speaks volumes about the service Attorney George Sink and his firm have been able to provide for nearly four decades. The firm has made it a priority to help injured and disabled people get the money they deserve – fast – and they continue to dedicate themselves to this mission today. You can learn more about Attorney Sink and the firm by visiting http://www.sinklaw.com.
George Sink, P.A. Injury Lawyers serves injured and disabled people across South Carolina from multiple office locations, including Charleston, Columbia, and Greenville. Established over 35 years ago by Attorney George Sink, the firm helps clients in the areas of personal injury law, Social Security disability, workers' compensation, and veterans disability.