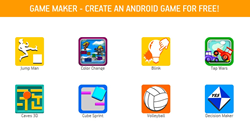 The game templates enabled me to build a network of fun apps.
(PRWEB) October 28, 2014
App making has been voted to be the most desired career in a recent survey amongst 18-35 year olds. The reasoning behind this appears to fall around the perception that app making encourages a good work life balance. The younger generation of app makers have also been seen to create more game styled apps rather than content rich apps. With the results of this research in mind, AppsGeyser has gone on to release 8 new Android game app templates to their app making tool platform.
Android game apps are the most commonly created apps, therefore AppsGeyser decided to introduce gaming templates to their app making platform. In January 2014, the first of the game templates was released. In the past week, a further eight templates have been added to the collection.
The new game templates that have been released include: 3D games, decision making games, sport related coordination styled games, and platform styled games. Each of the game templates allows the app maker to customize the app to suit their company branding. The customization also enables the app maker to build a range of apps into their network that all coordinate in style. The full range of games are available via the AppsGeyser website.
"I wanted to bring some fun to my existing business," George Tako explained. "The game templates enabled me to build a network of fun apps for my customers to play with."
"We began to introduce game templates to our app making platform at the beginning of 2014. The response we had was even more positive than what we had hoped for," said AppsGeyser Co-founder Vasily Salomatov. "We are proud to be introducing more templates for our app makers to utilize."
About AppsGeyser
AppsGeyser, launched in February 2011, is now the biggest Free Android App Builder on the market. AppsGeyser's popularity has risen by enabling users to create apps with ease for Android devices from any web content in under five minutes. AppsGeyser has seen more than 1,268,000 apps created on its platform. There have been more than 883 million downloads of its apps