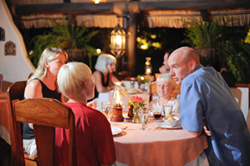 "After working hard all year, people should be able to relax, recharge and reconnect with each other over the holidays."
San Ignacio (PRWEB) October 28, 2014
The Lodge at Chaa Creek has just announced a new, limited time only Belize Christmas vacation package that offers a unique approach to enjoying the holidays while sharing a tropical adventure with family and friends, according to the Belizean eco-resort's assistant GM.
Bryony Fleming Bradley said that "Jungle Bells" all-inclusive Belize vacation is available for three, four and five night stays between December 15 to 22 this year, and is aimed at giving guests a healthy, more stress-free and fulfilling alternative to celebrating the Christmas holidays.
"Our all-inclusive Christmas packages have always been very popular, and feedback from guests suggests that a big reason for this is that they offer a more relaxing, healthier and interesting way for people to spend their holidays together. So this year we're offering an early Christmas present," she said.
"All too often, the holidays can become stressful, what with all the planning, frantic shopping, preparations, cooking, cleaning and trying to satisfy everyone. With our new all-inclusive 'Jungle Bells' Belize vacation package, everything is taken care of, so families, friends or couples can concentrate on spending quality time together and sharing new adventures with each other," she added.
Ms Fleming Bradley said that Chaa Creek's all-inclusive Belize vacation packages include everything needed for a complete Belizean holiday, including accommodation, all meals, activities and tours, transfers, a visit to the Belize Zoo, staff gratuities and government taxes.
"Guests also enjoy complete access to Chaa Creek's 365 acre private nature reserve where miles of well-maintained jungle trails connect a butterfly farm, the Natural History Centre, infinity pool, Jungle Lounge, our Mariposa restaurant, Maya medicinal plant trail and organic farm and more. The Gayot's Guide-recommended Hilltop Spa and other options for additional pampering are always available," she said.
The emphasis, Ms Fleming Bradley said, is on sharing exciting activities and healthy farm-to-table meals in an atmosphere of casual luxury.
"After working hard all year, people should be able to relax, recharge and reconnect with each other over the holidays. We designed Jungle Bells as a way to do just that while avoiding the frantic rush many seem to go through, By leaving the planning, cooking, cleaning and everything else up to us, everyone gets to really enjoy their time together, and for one very affordable set price. By the time Christmas approaches, they'll be relaxed, tanned and ready to celebrate before ushering in the new year. And our activities are designed to give guests insight into Belize's rich ancient Maya civilization and pristine natural world, so everyone leaves having learned something new.
"When you consider all that's included in the Jungle Bells package, it's a very affordable way to give the ultimate Christmas present. Whether people wish to remain in Belize or spend Christmas day back home, they'll have beaten the rush with an early Christmas present that will leave them with memories lasting a lifetime."
Ms Fleming Bradley said that travellers can learn more about the Jungle Bells all-inclusive Belize vacation package by visiting the Chaa Creek website or by contacting the Lodge or their travel agent.
"We're very excited about this new vacation package and think we've just started a new tradition," she added.