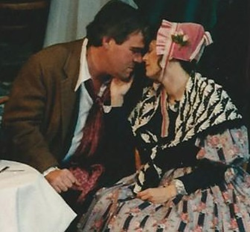 The New York Times called La bohème "the world's most popular opera"
Bound Brook, NJ (PRWEB) October 28, 2014
Eastern Opera presents Puccini's immortal classic La bohème, a story of young love set against the penurious but jubilant lifestyle of 19th-century bohemian Paris. La bohème is considered Puccini's most beloved opera and for many the quintessential opera. The opera, sung in Italian, will be fully staged, with orchestra, sets and costumes. Four performances are scheduled for November 15, 22 (at 8pm) and November 16, 23 (at 3pm) at the historical Brook, 12 Hamilton St, Bound Brook NJ. Tickets are on sale at the Eastern Opera Box Office, by phone at (908) 566.5708 or online at http://www.easternopera.org.
Based on Henri Murger's memoir Scenes de la vie de bohème, with libretto by Luigi Illica and Giuseppe Giacosa, La bohème is Puccini's most sympathetic and gentle masterpiece. It is Christmas Eve, 1840. Four poor zealous artists share an attic apartment in the Latin Quarter of Paris: Rodolfo, a poet; Marcello, a painter; Colline, a philosopher; and Schaunard, a musician. Though living in poverty, they enjoy life with youthful optimism. When Rodolfo falls for the beautiful but fragile seamstress, Mimì, their hapless relationship becomes the emotional center of the story, as this band of bohemians grow to understand the delight and the despair of living in the brilliance of the moment.
La bohème premiered on February 1, 1896 at Turin's Teatro Regio and launched its 38-year-old composer into international fame. One of the most performed operas around the world, La bohème has touched the hearts of audiences for over a century and has inspired films and most notably the Pulitzer Prize-winning Broadway musical, Rent, a modern-age tale of artists and musicians struggling to survive in Manhattan's Lower East Side under the shadow of the AIDS epidemic. The New York Times called La bohème "the world's most popular opera" and for many it is the quintessential opera; a touching story with universal appeal, heightened by the expressive beauty of a beloved composer.
Italian composer Giacomo Puccini (1858-1924) is distinguished as one of the most popular composers in opera history. He began his music career as a church organist, but after seeing a production of Verdi's Aida he knew his future was in opera. After his early success with the opera Manon Lescaut in 1893, Puccini continued his productive partnership with librettists Luigi Illica and Giuseppe Giacosa to adapt Murger's memoir Scenes de la vie de bohème for the opera stage. Further collaboration with the librettists resulted in the creation of Tosca (1900) and Madama Butterfly (1904). La bohème was Puccini's fourth opera and is widely considered a masterpiece. A master of the verismo style, Puccini was especially sympathetic to the life of the young Parisian bohemians, having himself been a poor artist in his youth.
Dr. Robert Butts, Eastern Opera's founding Music Director and Principal Conductor, will conduct La bohème. Dr. Butts conducted Madama Butterfly, Otello , Die Fledermaus, Carmen and a double bill I Pagliacci and Mark Twain and the General (an opera he composed) with Eastern Opera during its first two seasons. He serves as Music Director and Conductor with The Baroque Orchestra of New Jersey, BONJ Opera, Eastern Opera Company of New Jersey and In Mid Air Productions. He teaches and lectures at Montclair State University, The College of Saint Elizabeth, Drew University and The New Jersey Council For the Humanities. In addition, he develops courses and individual lectures for Westfield Adult School, Leisure Learning, Lifelong Learning, and other adult and continuing education programs across Northern New Jersey. He has done pre-concert talks for NJPAC, The New Jersey Symphony, The New Jersey State Opera and Elderhostel. With The Baroque Orchestra of New Jersey, he has developed the broadcast video series Concerts and Conversations. He is a recipient of the Arts Council of the Morris Area Arts Professional of the Year and has been a finalist for the 2010 and 2011 American Prize for Orchestral Conducting, the 2011 and 2012 American Prize for Opera Conducting, and the 2011 Vytautas Marijošius Memorial Award. He was awarded the 2011 American Prize Citation for outstanding educational and outreach work in music.
Singer, Director Karole Lewis, directs Eastern Opera's La bohème, which she describes as "a love story that continues throughout all time." says Lewis. "The unbridled passion and beautiful melodies complete the drama. The story explores all elements of human emotion while filling the senses with beautiful music."
Lewis' directing prowess expands a large range in repertory. She has directed with Eastern Opera, Opera at Florham, The Baroque Orchestra Summer Festival, Livermore Valley Opera (in CA) and Monterey Opera (in CA). This will be her third production directing La Boheme. Ms. Lewis is also an accomplished singer and has performed leading operatic roles in California with Opera San Jose, Oakland Opera, West Bay Opera, Monterey Opera, Livermore Valley Opera, and Santa Cruz Bay City Opera—a company she co-founded and for which served as General Director. She has sung major soprano roles in Madama Butterfly, Die Fledermaus, Otello and Carmen (with Eastern Opera), La Traviata, La Boheme, Le Nozze di Figaro ,Tosca, L'Elisir d'Amore, Carmen, I Pagliacci and Mark Twain and the General, among others. Karole was a finalist in the Metropolitan Opera's Western Regional Finals.
La bohème features the talents of 10 singers from New Jersey and New York. Tenor Peter Lewis will play the role of the handsome, yet insecure poet, Rodolfo. Previously sharing the title role in Verdi's Otello, sopranos Karole Lewis (11/15, 23) and Victoria Wefer (11/16, 22) will play the role of Mimi, the poor seamstress suffering from consumption. Baritones Donald Boos (11/16, 22) and Ted Dougherty (11/15, 23) alternate as Marcello, the young painter and Rodolfo's best friend, and the role of the philosopher Colline will be played by bass-baritone Hyong Sik Jo. Lewis (11/22) and Wefer (11/15) will alternate with Justyna Giermola (11/22, 23) in the role of Marcello's flirtatious girlfriend, Musetta. Making their debut with Eastern opera are Shane Brown (11/15, 23) and Rashard Deleston (11/16, 22) who play Schaunard, the musician. And Don Kalbach plays both the roles of Benoît, the landlord and Alcindoro, Musetta's sugar daddy.
About Eastern Opera
Eastern Opera Corp. is a 501 (c) (3) nonprofit corporation organized and operated exclusively for charitable purposes. Specifically, Eastern Opera has been formed to encourage and instruct individuals for the purpose of improving and developing their capabilities, to educate the public on subjects useful to the individual and beneficial to the community, and to promote the arts and culture to the local communities.
For more information contact Lou Kersey at loukersey(at)easternopera(dot)org or visit http://www.easternopera.org.