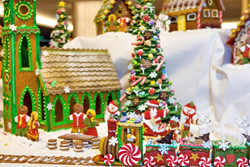 Fun Things to Do in Asheville North Carolina
Asheville, North Carolina (PRWEB) October 27, 2014
It's beginning to look a lot like Christmas around Asheville, North Carolina. Ashevillian's are excited as the 22nd Annual National Gingerbread House Competition™ will begin in November. The event features Gingerbread masterpieces, thousands of sparkling holiday lights, dozens of themed Christmas trees and roaring fireplaces. It's probably the closest folks can get to the South Pole in North Carolina and is one of the most fun things to do in Asheville around the holidays while folks search for Asheville homes. The competition runs from November 19th through January 1st, 2015. The event is open to the public on Sunday through Thursday. It's open for resort guests of the Omni Grove Park Inn only on Fridays and Saturdays.
Gingerbread cookies and holiday celebrations aren't Asheville's only big draw. Asheville's friendly neighborhoods attract educated young professionals, artisans and active retirees. Asheville's diverse communities offer a mix of modern and Art-Deco buildings and an assortment of trendy restaurants and live-entertainment venues. The area, home to several mountain communities in North Carolina, is also home to a thriving arts community, diverse outdoor adventures, a vibrant downtown and numerous historic attractions.
Asheville has been recognized for its fine qualities and traits by dozens of magazines and publications in recent years. Asheville is considered America's #1 "Quirkiest Town," according to TravelandLeisure.com (August 2014). USA TODAY chose Asheville as one of the top "Southern Literary Destinations" (August 2014). Asheville was also featured on USA TODAY's "Best Summer Weekend Escapes" list, chosen by reader of USA TODAY and 10Best (May 2014).
The great mountain communities that surround Asheville are another aspect of the area that makes it so special. Located less than 10 minutes from downtown, Southcliff is an established and friendly Asheville neighborhood with long range layered mountain views. Six miles of groomed hiking trails lead to their beautiful North Carolina mountain community parks and well designed outdoor living rooms. Southcliff in Fairview, North Carolina is 400 acres in size and has almost 50% of the community's acreage preserved as protected green space. Buyer's searching for fun things to do in Asheville who enjoy the great outdoors will appreciate the five community parks at Southcliff with amenities such as a rustic treehouse, children's playgrounds, scenic overlooks, open-air pavilions and firepits.
The Village of Cheshire is also in close proximity to downtown Asheville homes. It's nestled among the Blue Ridge Mountains and Mt. Mitchell. This health-oriented mountain community in North Carolina features walking trails, wide tree-lined sidewalks, fitness center and pool, racquet club, and a vibrant Village Center consisting of restaurants, retail shops and offices – all within a short distance from home.
Another popular mountain community in North Carolina is Biltmore Lake. It's located away from the hustle bustle of the city and spreads across 1,300 acres. Biltmore Lake homes feature a mix of architectural mountain styles. The Biltmore Lake network trail system has 4.2 miles of walking and biking trails woven throughout this Western North Carolina lake community leading to parks, fishing piers and viewing areas. Sidewalks and streetlights compliment the walking experience. The clubhouse overlooking Biltmore Lake is adjacent to two hard tennis courts, a basketball court and a beautiful children's playground. A fishing dock and kayak/canoe boathouse is lakeside at the Biltmore Lake Clubhouse. The lake is stocked with bass for a day of catch and release fishing. Buyer's searching for fun things to do in Asheville won't want to miss seeing this master-planned community near downtown.
Reynolds Mountain offers lots for the eye to see. This friendly Asheville neighborhood showcases panoramic vistas of the Blue Ridge Mountains and French Broad Valley. Located just 10 minutes from downtown Asheville, this mountain community in North Carolina on the north side of Asheville offers luxury living while enjoying nature's majesty on top of the mountains. Witness spectacular views of the Grove Park Inn, the golf course of Country Club of Asheville, the sparkling waters of Beaver Lake, the twinkling lights of Asheville and heart-stopping sunsets over the Blue Ridge Parkway at the Asheville real estate development.
Reynolds Mountain homes stretch across 500 acres and include approximately 200 custom luxury homes of the 600 planned, large estates, arts and crafts villas, and luxury town homes. This is North Asheville's first large-scale, planned, mixed-use development. Mountain elevations range from 2,000 to 3,000 feet giving folks the perfect view that will take everyone's breath away. It's hard to find a more beautiful mountain community in North Carolina.
Folks passionate about golf and the country club living lifestyle won't want to miss checking out The Ramble at Biltmore Forest homes. It is located only 10 minutes south of downtown Asheville and borders America's Favorite Scenic Drive, the Blue Ridge Parkway. Developed across 1,000 acres of curated forest, this friendly Ashville neighborhood boasts some of the largest luxury home estates in the area, while preserving the natural beauty of the surrounding Biltmore Forest and 300 acres of protected parks and greenways. Longmeadow Park is the community's largest park and is the setting of outdoor social events and concerts on the lawn. The stunning outdoor amphitheater and living room includes English formal gardens, open air pavilion with restrooms, children's playground, basketball court, multi-purpose field with soccer goals, and a hand-hewn stone fire pit. The Biltmore Forest Country Club is a private, invitation-only club. Many of the club's members have first or second homes in Biltmore Forest and numerous amenities are available for those accepted into this exclusive and social club.
Asheville North Carolina has been named America's Happiest City and continues to attract artists, musicians, foodies and outdoor enthusiasts of all ages. When folks travel to explore mountain communities in North Carolina and see Asheville homes, contact Real Estate Scorecard's trusted colleague Sean McLaughlin of Mountain Oak Properties who can show folks these high quality neighborhoods and more.
Call Sean McLaughlin directly at 248.470.4009 to schedule a visit.
About Real Estate Scorecard:
Real Estate Scorecard writes unbiased real estate reviews providing in-depth information about popular gated communities in Florida, Georgia, North Carolina, South Carolina and Tennessee, all in an effort to help people discover where to retire in the Southeast.
Website: http://realestatescorecard.com