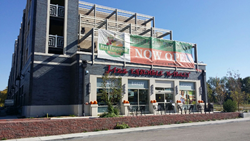 We have invested in the neighborhood and in the people providing a state-of-the-art fresh foods market, deli and café that will be a much-needed resource for the community. -Edith Moore
East St. Louis, IL (PRWEB) October 27, 2014
The Jazz Ensemble Market and East St. Louis Consortium for Progress, Economic Development & Affordable Housing, Inc. NFP (ESL Consortium) held a ribbon cutting ceremony for the opening of the Jazz Ensemble Market, a high-quality, fresh foods market in East St. Louis, Ill. U.S. Congressman William L. Enyart, Illinois State Senator James F. Clayborne, Jr., Illinois State Representative Eddie Jackson, and City of East St. Louis Mayor Alvin Parks, Jr. joined the Market and ESL Consortium at the ceremony marking the formal opening of this 5,200-square-foot store boasting a grocery, deli and cafe.
This economic development initiative is part of the $20 million Jazz @ Walter Circle development project, and is one of the first in the nation to tackle several of the federal administration's initiatives with a locally owned grocery. The project will help achieve the goals of several federal initiatives including the White House Let's Move! campaign to fight childhood obesity; the USDA Healthy Food Financing initiative; the U.S. Department of Transportation Pilot Program for Transit-Oriented Development; and the White House Ready to Work initiative.
The development of this state-of-the-art grocer is a testament to the importance of public-private partnerships for community-driven projects in today's economy and the creative way in which these partnerships can solve complex problems within low-income communities. The market was designed specifically to serve the entire community with quality produce, superb customer service and affordable prices, including serving suburban commuters who park at the Emerson Park light rail station.
"This is a great day for the City of East St. Louis and for this community," said Edith Moore, an East St. Louis community leader and board member of the building's owner. "We have invested in the neighborhood and in the people providing a state-of-the-art fresh foods market, deli and café that will be a much-needed resource for the community, a daily stop for Emerson Park Station users and visitors, and a great place to work for local employees."
About Jazz Ensemble Market
Jazz Ensemble Market is located at 1001 North 15th Street on the ground level of Jazz @ Walter Circle building. Jazz Market believes that 'food is the connection that brings us all together'. Serving the East St. Louis Community is our core business philosophy. We are locally owned and operated. Any purchase made in the store stays in East St. Louis and 95% of the 25 employees come from within East St. Louis. We are neighbors serving neighbors. We partner with local vendors, local producers, and local outreach groups to give each other a helping hand up. For more information, visit http://www.myjazzmarket.com.