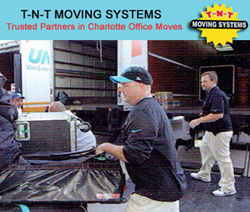 We manage all office moves across town and across country! -- Tom Tulowiecki, T-N-T Moving Systems, Charlotte NC
(PRWEB) October 28, 2014
Commercial office and industrial moving is a highly specialized field that requires knowledgeable personnel, the right moving equipment, and advanced moving techniques. "We have helped the Panthers move their entire operation, including computers and other highly technical equipment, to training camp every year," explains Todd Koepke, co-owner of T-N-T. They are now offering their expertise to other companies in and around the Charlotte area.
T-N-T maintains a strong commitment to residential moving services, but believes their expertise is needed in the commercial office moving field. "Charlotte and the business community continue to grow, and we think we can help companies protect their belongings throughout their move," says Koepke. T-N-T provides reliable scheduling and strives to offer inexpensive solutions to their customers. "We manage all office moves including floor-to-floor, across town, and cross-country," explains Tom Tulowiecki, co-owner of T-N-T Moving Systems. They aim to keep business interruptions to a minimum in order to not compromise business productivity.
"As small business owners ourselves, we know the value of a job well done at a good price and that's what we provide our clients," says Tulowiecki. "We understand the need to protect your equipment like computers, phone systems, servers and more in an office move."
About the Company
Established in 1995, T-N-T Moving Systems is one of the most reputed moving and storage companies in Charlotte. The have an A+ rating from the Better Business Bureau and have won awards for their excellent services from the US Commerce Association. They are insured and bonded. T-N-T offers full service moves which includes packing, transporting, and unloading all of belongings.
The entire team at T-N-T goes above and beyond to secure that their clients feel comfortable through the whole moving process. For more information about T-N-T and their moving service, call them at 704-523-1455 or visit their website at http://www.tntmovingsystems.com .
Kelly Bladl,
CCP Web Design Staff Writer and Google Author