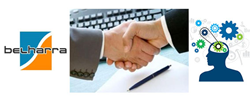 "Belharra has a desirable customer base, speaks the customer's language and has earned a positive reputation with them." said Bruno LeConte. "CM First looked to Belharra to enhance its reputation for industry-leading modernization expertise."
Biarritz (France) and Austin, TX (USA) (PRWEB) October 29, 2014
Belharra, a software and integration services company in Biarritz, France, chose CM First as a technology partner in France. Belharra is exploiting CM First's solutions around CA 2E (Synon) and CA Plex. CM First offers modernization capabilities and software which help enterprises bring legacy CA 2E/Synon and CA Plex applications in line with current technical standards. One enterprise modernization project has been successfully deployed at Ets-Dupouy, an enterprise in the Bordeaux region.
Today, critical business, in-house-developed, business systems of many organizations are challenged to keep up with the demands of employees and customers:

Organizations need multichannel web and mobile apps to communicate with customers, suppliers, and employees.
End users demand a first class responsive design user experience, on all devices.
Yet many business applications have been developed with hard-to-support languages (CA 2E (Synon),RPG, COBOL, etc.)
And critical business rule expertise is held by experts facing retirement.
Faced with these problems, decision-makers are tempted to migrate to a vendor supplied enterprise software package or to rewrite the application. However, that journey can be long and costly.
"CM First offers an automated, pragmatic, and cost-effective modernization solution called CM M3; and this offering made the partnership attractive to Belharra. The Belharra and CM First methodology allows companies to rapidly modernize business applications without impact to the business," Bruno LeConte, Managing Director, CM First France, said. "Technologies mastered by CM First and Belharra enable automatic migration of legacy code of specific business applications developed under AS400, to the new technical standards Java J2EE. Also, the continuity of the business application is guaranteed with web and mobile access."
"Belharra believes that the new information technologies help to modernize information systems to meet the expectations of Executive Management teams. Migration projects have much better and faster measurable ROI than those recorded during the deployment of a new ERP," says Patrick BOURG, COO at Belharra.
CM First is a gold level partner with CA Technologies, offering customers deep expertise in CA 2E and CA Plex. For companies seeking to move to a modern application development platform, CM First offers M3 an expert, automatic code migration from CA 2E to CA Plex. Another modernization differentiator is CM WebClient, which enables companies to web and mobile-enable legacy applications; the solution has been awarded 'CA Smart' by CA Technologies. http://www.cmfirstgroup.com/products/cmwebclient/
CM First is a leader in application modernization in the United States, among others. Often CM First relies on partner resellers to help extend their reach into new markets. The latest partnership is with Belharra, a software development firm based in Bassussarry, France. http://www.cmfirstgroup.com/initiatives/mobile-application-enablement/
"Belharra has a desirable customer base, speaks the customer's language and has earned a positive reputation with them." said Bruno LeConte. "CM First looked to Belharra to enhance its reputation for industry-leading modernization expertise." http://www.belharra.fr
The first partnership customer is Ets-Dupouy SBCC, a specialty food importer/exporter. Founded in 1928, it is located in Bruges near Bordeaux. The company-specific application allows management and tracking of quotes, optimizes the cost of transactions and secures administrative oversight of the transport of goods between domestic and overseas territories and departments.
Originally developed in CA 2E (Synon) and RPG "green screen" mode, this key application needed to be modernized to support mobility and the web. In addition, the stress of finding AS400 technical skills capable of supporting the development of modern information systems became a real risk to Executive Management.
With Belharra's migration methodology and CM First's technology, Belharra undertook the modernization of the business application in 6-7 months. As a result, the application works on a J2EE architecture with the same data schema and user functionality replatformed to Linux. It is now available as a web app and will soon be deployed in extranet and Cloud access for customers and suppliers.
About CM First
CM First is a global software and services company with focus on application modernization, custom development of enterprise applications that support high-performing, and agile development teams in three key areas: Application Modernization for IBM Environments, Custom Application Development Architected and Agile, Tools and Technology for Future Development. Reference customers include Hapimag (travel industry), United Heritage (insurance) and Hartman & Hartman (construction).
About Belharra
Belharra was created in April 2006 in Biarritz (France). Specialized in digital services, it offers its expertise in two domains: the integration of IT services for modernization including mobility and collaborative internet; and the edition of e-SCM, a Supply Chain Management solution specialized for the textile industry. The company employs 30 people and had an annual revenue of 3 M€ in 2013. Its customers are mainly enterprises from Mid-Market in France. Main references include Armor Lux, RIP CURL, Billabong, Eden Park, Petit Bateau (textile industry); CCI Poitou-Charentes, CHPF (French Polynesia Hospitals), FNTP, Mairie de Bayonne, Tisséo (Toulouse Transportation), Promologis (public service); LIEBHERR, Eurolines, Sport2000, Intersport, GIFI, Groupe FAYAT (BTP), Hammel Robinetterie, SBCC Dupouy (Import/ Export), EDD (Press on line platform) (industry and trade); Lindt, Jacquet & Brossard, Mericq, Groupe coopératif ARTERRIS, Domaines Barons de Rothschild (food industry).