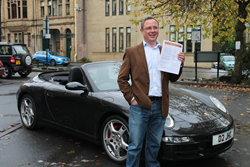 This is the first free GAP insurance to be launched in the UK. Car buyers can drive away their vehicle on a Direct Gap free policy avoiding expensive dealer GAP insurance - and then research the market.
Hebden Bridge, West Yorkshire (PRWEB UK) 28 October 2014
"We are so confident that our products provide excellent cover at a really competitive price that we're willing to give people two weeks cover for free. They can avoid expensive dealer GAP insurance and really research the market.
We know that Direct Gap can save people money whilst still giving them complete confidence that they will be able to fully replace their car and pay off any outstanding finance if their car is written off."
Said James Cartwright, Managing Director of Direct Gap.
New car buyers can get instant cover online or over the phone in advance of their car purchase - or even call Direct Gap from the dealership before they leave the forecourt.
The Direct Gap Complimentary 14 Day Drive Away GAP insurance policy is an innovative product that targets the problem of expensive GAP insurance add-ons sold in dealerships, as recently highlighted by the Financial Conduct Authority. The policy is free and there is no further obligation if customers find a better deal.
"This product is very timely with the FCA Market Study on General Insurance Add-Ons demanding more transparency and break periods for add-ons. It means that customers don't need to buy GAP cover at the dealership. They can get Direct Gap complimentary short term cover and then research the best value in the marketplace."
Cartwright added.
Direct Gap is an independent company offering excellent GAP cover at extremely competitive prices, reviewed by Which? Magazine, and independently five star rated.
Notes
This is the first free GAP insurance policy to be offered in the UK.
Direct Gap Complimentary 14 Day Drive Away GAP is a trading style of Motor Gap Ltd, Hawkstone House, Valley Road, Hebden Bridge HX7 7BL.
The policy covers up to £5,000 difference between the purchase price and motor insurer's settlement in the event of a total loss.
The policy covers new and used cars and vans within 30 days of purchase and includes fully fitted optional extras and loss of vehicle through theft of keys.
Full details of the Financial Conduct Authority's report: Market Study of General Insurance Add-ons can be found on the FCA website: http://www.fca.org.uk
Car buyers can call Direct Gap for instant cover on 01422 719100 or instant cover online at http://www.directgap.co.uk.
For further information, full policy details and high resolution images please contact:
Beate Kubitz, press(at)directgap(dot)co(dot)uk, 07974 369240
James Cartwright, Managing Director, james(at)directgap(dot)co(dot)uk, 01422 719100