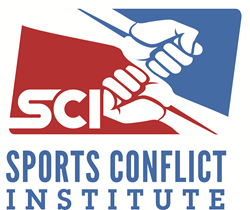 Having the right plan, people, and skills can make the difference between a smooth event and one that makes headlines for the wrong reasons.
Portland, OR (PRWEB) October 27, 2014
With the NCAA college football season and MLB World Series in full swing, negative conflict at sporting events is especially visible, yet the right expertise and practiced response can go a long way to resolve issues, mitigate reputation costs, and create a better experience for athletes, team staff, and fans. The Sports Conflict Institute offers event management services and wants to highlight these potential problems and the best proactive approaches to resolve them.
Common conflict at sporting events includes unsportsmanlike behavior from players and coaches, unruly fans, and the biggest attractor of negative media attention, verbal and physical fights on field, in the stands, or outside the venue. Top ten lists of sports brawls fill the YouTube ranks from little league to the pros and provide an ever present reminder of the destructive spectacle that sporting events can become.
Gil Fried, a professor at University of New Haven who specializes in sports law and facility management, has worked on many high profile cases involving dangerous fan behavior. He cites the football game between archrivals the University of Wisconsin and Michigan at Camp Randall in 1993 as a prime example of the unpredictability in event conflict management. "When you start looking at all the facts, you might not see them one at a time, but when you combine them all together, it's the perfect storm."
Preventing destructive behavior takes understanding the value of conflict management and a commitment to putting the right protocols into place at sporting events.
"One of the biggest transformational aspects of the last 10-15 years is the amount of education facility managers have," says Fried, though he stresses that "training is only as good as the people that are going to be trained, and what kind of tools you give them. (Done correctly) that can create a safer environment for everyone involved."
Ombuds programs can be another way to smooth sporting disputes, acting as a neutral resource to resolve issues before they blow up and become costly to an organization. From the high school level to the pro leagues to the Olympics, well trained ombuds can promptly, informally, and confidentially resolve conflicts.
"Fundamentally ombuds create a safe space where (individuals) can come forward, discuss issues, consider choices, and think through a problem," says John Zinsser, Principal and Co-Founder of Pacifica Human Communications and an ombuds expert. "With the strong personalities and chain of command on sports teams, "It takes somebody with a little forward thinking, and a real commitment to the functioning of an organization to accept that this can be very helpful."
By creating a better experience for athletes and fans and avoiding damaging publicity, well executed event conflict management programs can deliver tremendous value and cost effectiveness.
"Having the right plan, people, and skills can make the difference between a smooth event and one that makes headlines for the wrong reasons," says Joshua Gordon, SCI Founder and Senior Practitioner. "Our organization has the expertise to train staff in these skills and help design management protocols to make your next event a success."
Learn more about SCI's approach to event conflict management.
http://sportsconflict.org/sports-event-conflict-management/
About SCI
SCI supports competitive goals in athletics through understanding, preventing, and resolving destructive conflict both inside and outside the lines. SCI serves as a knowledge center and provides a range of services to help ensure student-athlete experience is part of a healthy university culture while optimizing performance on and off the field of play. Conflict is inevitable, but how we respond determines whether success follows or costs mount. SCI Founder Joshua Gordon has over 20 years of conflict management experience.