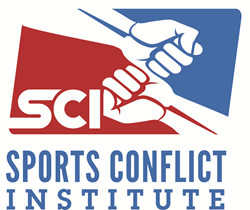 If you look at some of the most topical things happening right now, with the suspension of Adrian Peterson for example, and Ray Rice when that video came out. It was very interesting that the NFL really didn't have a good structure or process.
Eugene, OR (PRWEB) October 29, 2014
With 22 years of experience, a Masters degree, and prominent book, Gary Furlong's desire to truly understand the dynamics of conflict management began with a simple question: what is causing individuals involved in sport to behave the way that they do?
Focusing on his own experience and collaborated research from experienced mediators, Furlong created a set of eight different specific tools or models for understanding conflict. The result was his book, The Conflict Resolution Toolbox.
Before discussing the multiple theories and models revolving around conflict management, Dr. Ken Pendleton of the Sports Conflict Institute begins with his question to Mr. Gary Furlong, "When most people think of sports, we do not think of conflict resolution or conflict management. Where do you see value for sports in the kind of theories and models that you've developed?"
"Because most of us, as viewers, or even as participants in sports, really start halfway through the process we start where there are teams or there's a game or there's a framework that we're operating within—like the rules of football or the rules of baseball—that everyone assumes and doesn't think about. And we just jump in a start playing the game. And the game typically is to win," Furlong explains.
Citing well-known Sandlot rules, Furlong explains, "Until we sit down and agree the rules of the game and agree the way we're going to play to this game and agree to the size and shape of the field and agree a hundred other things, which we have to collaborate on and agree to ahead of time, there isn't even a possibility to play sport."
"So while we don't often think about sport as a collaborative venture, in fact the very foundation of it is the ability to resolve conflict and move on," Furlong says.
Dr. Ken Pendleton pushes the topic further by asking Furlong about negotiations that lead to codified rules within sport.
"In some fashion, there is this constant ongoing conflict resolution process that we call 'negotiation' that we, (often) don't see but drives a great deal of what happens prior to the players hitting the field," Furlong begins, "I think conflict resolution plays a huge foundational part of sport across the board."
Founder and practitioner of the Sports Conflict Institute, Joshuaua Gordon, questions the effects of teams and organizations who don't have good conflict resolution skills; citing the polarization of individual athletes who may have similar goals but may not find success on the field.
"When those skills are not particularly well developed, there's a very natural human tendency … to polarize very rapidly," Furlong explains.
Rather than attach each other's point of view or argue, the process of conflict resolution can be seen as highly useful in these situations. It's the process of pointing fingers that often prevents us from being able to solve the problem.
"…When this polarization takes place, it actually drives us to a place that is not very reflective of reality. But it seems to be very attractive for people-- meaning that one triggers the other into more and more extreme points of view-- which end up harming both parties," Furlong says.
"So we need to be able to be good at resolving those kinds of things. It's a core skill if we want to have effective, interesting, watchable sports," Furlong admits.
With weighted schedules and aligning a culture of football, the NFL has taken steps to create an aligned environment where fans have access to said effective, interesting, and watchable sports.
"We think of sports as conflictual by nature, but I think one of the things your work points towards is the important of alliance and how we achieve alliance," Pendleton states.
Furlong comments, "Yeah, the alignment is critically important. Especially when we want to have an arena where we compete."
Walking us through the three steps of interest, individual rights, and power, Furlong says, "So, we have to anchor things on that level of what's in our common interest and how do we create a space where we can fairly, and in an exciting way, test ourselves and compete? That's healthy sport."
With the concept of healthy sport being an ideal to align with, the Sports Conflict Institute is focusing on how to help change the framework of both NCAA teams and the NFL in a way that allows SCI to help prevent, assess and solve the many conflicts these teams face. From the unique challenges that sports provide to the core values of sport itself to the importance of trust in teammates, coaches, and athletic programs.
Gordon points out that, "In many ways, conflict resolution has been around for a long time now, and has been a field of study and a field of practice. But for sport, in a lot of ways it's very much cutting edge," but asks the difficult question, "What are some of the ways that people can embrace this kind of approach (trust) and not see it as contradictory to their goals of winning?"
"That's really important," Furlong agrees, "because trust is what's at the foundation of every single relationship that any of us are engaged in. And when you look at sports, especially team sports, what allows people to go out and give 100% and demonstrate the full level of their skill and ability is the trust they have in their teammates and the trust they have in their coach and the trust they have in that system."
Furlong continues, "What good teams do is they don't base the level of trust on the individual specifically involved. What they do is they build a framework. They build a team structure that is transparent, that is respectful, that is consistent and repeatable. … So that whether I know the person next to me on the line or not, by executing a set of practiced, ' I know they're going to do what they said they were going to do, what we all learned, what we did together.' When I see that repeatability, that's what builds the trust, fundamentally on the team."
"One of the things that we've seen in action," Gordon begins, "building off of this idea of how important it is, is when we introduce our tools to athletes and coaches, they see things very differently. It goes into a framework where they see conflict in a very different light and that educational piece has tremendous value in its own right. Are there thoughts that you have in terms of how can you integrate these great skills, models, tools, into sport in a way that it becomes part of sport more inherently?" Gordon asks, and "What are some of the ways in which you can integrate this into how teams are run?"
"… We need to establish expectations," Furlong admits. "The more aligned and the more everyone understands what the expectations are, and having had a chance to talk about it before anything happens, the easier it is to simply follow that path."
"If you look at some of the most topical things happening right now, with the suspension of Adrian Peterson for example, and Ray Rice when that video came out. It was very interesting that the NFL really didn't have a good structure or process for how they dealt with these," Furlong begins.
"But without a system in place, suddenly panic sets in, people start reacting, sometimes overreacting, and in any event the people sitting on the outside—the fans, simply look at this and start to get disengaged. So the value of good, clear expectations and systems minimize those kinds of problems," Furlong says.
"It doesn't make it any easier to deal with but it's dealt with in an orderly, transparent, respectful, clear way which people understand" Furlong concludes.
###
Watch the entire interview. https://www.youtube.com/watch?v=uQbsTg9UUyA
About SCI
SCI supports competitive goals in athletics through understanding, preventing, and resolving destructive conflict both inside and outside the lines. SCI serves as a knowledge center and provides a range of services to help ensure student-athlete experience is part of a healthy university culture while optimizing performance on and off the field of play. Conflict is inevitable, but how we respond determines whether success follows or costs mount. SCI Founder Joshua Gordon has over 20 years of conflict management experience.