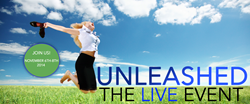 There has never been a better time to be an entrepreneur
San Diego, Ca (PRWEB) October 27, 2014
Most purpose driven entrepreneurs suffer from at least one under performing key element in their business; poor online lead generation, lack luster sales skills, or confusion in fulfilling and delivering highly effective programs and products. In addition many fall victim to a 1-1 delivery model that leaves them trading their time for money and feeling trapped and overwhelmed in the process. That's why The Entrepreneur Unleashed has invited a group of cutting edge marketers, each with their own specific expertise in marketing online, sales, and delivery to assemble for UNLEASHED The Live Event and provide important skills to implement the latest innovations in online marketing strategy and product delivery.
"There has never been a better time to be an entrepreneur, yet understanding the opportunity and knowing how execute a plan challenges many coaches and consultants and keeps them from providing their expert information to a hungry market." says Keating, CEO The Entrepreneur Unleashed. "We hope this event will encourage small business owners to learn the mechanics of online marketing. the power of building a platform and how to effectively reach their prospects, so they can serve the people who are seeking help."
The Entrepreneur Unleashed will host UNLEASHED The Live Event on November 6-8 from 9am-6pm at The Hyatt Regency, Mission Bay, San Diego.
"This is an important educational event, especially in light of changes happening online in marketing and service delivery, said Keating, "The use of online marketing via, webinars, podcasts, video, and now text messaging is exploding, and the cost has never been lower, so it's critical to understand exactly how to leverage your business using technology and marketing innovation.
Quick Facts: Entrepreneurs And Innovation

There are 2 billion people online, 70% of them use the internet daily
500 million people log in to facebook every day
Facebook users alone spend a combined 10.5 billion minutes daily on Facebook
4.55 billion people worldwide use a mobile phone
For More Information
http://UnleashedLive.com
Contact Tara(AT)PattiKeating.com
(503) 855-4477
About The Entrepreneur Unleashed
Founded in 2004, The Entrepreneur Unleashed is a company dedicated to advancing the world through entrepreneurship. EU develops programs, provides educational resources and offers services to accelerate the results of it's clients and community.