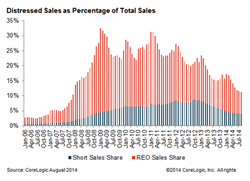 while the market has improved considerably since January 2009, there is still has much room for improvement
Chicago, IL (PRWEB) October 26, 2014
Peoples Home Equity was intrigued by a recent Corelogic article titled "Distressed Sales Accounted for Just 11 Percent of Total Home Sales in August 2014." As depicted in the October 21st release, as of August distressed properties count for only a small number of total home sales. The percentage of distressed sales is now at its lowest point since December 2007.
Within the category of distressed home sales, REO sales accounted for 7.2% and short sales made up 4% equally a total of 11.2% in August. Corelogic highlights that at their peak "the distressed sales share totaled 32.4 percent of all sales in January 2009." In addition, the article states that the "shift away from REO sales is a driver of improving home prices, as REOs typically sell at a larger discount than do short sales."
State by state "Michigan had the largest share of distressed sales of any state at 25.5 percent1 in August, followed by Florida (23.1 percent), Illinois (22.6 percent), Nevada (21 percent) and Georgia (19 percent). South Dakota experienced a 12.6-percentage point drop in the distressed sales share from a year earlier, the largest of any state."
Peoples Home Equity reminds prospects that there will always be some level of distressed homes in the market place, just the lower number the better. Corelogic states that "the pre-crisis share of distressed sales was traditionally about 2 percent." Thus, while the market has improved considerably since January 2009, there is still has much room for improvement. This means there still remains opportunity to pick up discounted properties. Prospective home buyers, especially first-time home buyers interested in low priced real estate should be pre-approved for a mortgage before home shopping. Discounted properties sometimes sell fast due to cash buyers. If first-time home buyers hope to offer first or outbid a cash buyer they must be approved for a mortgage.
Contact a Peoples Home Equity loan officer today at: 262-563-4026