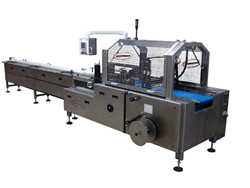 Athens, GA (PRWEB) October 27, 2014
Benchmark Automation, powered by Pro Mach, will showcase a High Speed Servo Shrink Wrapper at this year's Pack Expo International, November 2-5, 2014, in Chicago at Booth S-1702. This automatic shrink wrapper is ideal for food, pharmaceutical, contract packaging, and other demanding applications.
The Benchmark Automation line of Shrink Wrappers accepts a variety of products fed automatically from any of their InFlight Loaders or fed by hand. Their servo driven end seal Jaw, combined with precise continuous motion loading, result in reduced film use and increased uptime.
The Shrink Wrapper incorporates the latest controls and sturdy design into a ruggedly dependable machine built for long life and trouble free operation.
About Benchmark Automation and Pro Mach, Inc.
Since 2001, Benchmark Automation has addressed the key concerns facing today's food manufacturers. Benchmark Automation's packaging automation equipment is engineered for efficient, reliable operation and quick changeovers with minimal maintenance and sanitation required. Their professional, dependable service technicians and a complete inventory of spare parts ensure every project is a success. 
Benchmark Automation supports their equipment with professional, responsive technicians that are experts in their field. Their technicians provide comprehensive training for your operators, mechanics and sanitation personnel. Equipment manuals include comprehensive instruction on operation and maintenance of their machines. Benchmark Automation also provides complete assembly drawings, electrical diagrams, programming documentation and spare parts lists. They will be a valuable resource for your operators, mechanics and purchasing agents. Benchmark Automation, LLC, is located in Athens, Georgia.
Benchmark Automation is powered by Pro Mach, Inc., a leading provider of integrated packaging products and solutions for food, beverage, household goods, pharmaceutical, and other diverse consumer and industrial applications. Through multiple brands, Pro Mach provides equipment, training, installation, and parts for bottling and capping, primary packaging, flexible packaging, material handling, end-of-line packaging, and identification and tracking. Pro Mach is headquartered near Cincinnati, Ohio, with manufacturing facilities and offices throughout the United States, Canada, Europe and Asia. http://www.promachinc.com.
For more information on Benchmark Automation and their packaging automation equipment, contact Benchmark Automation at: 706.208.0814, sales(at)benchmarkautomation(dot)net, http://www.benchmarkautomation.net.