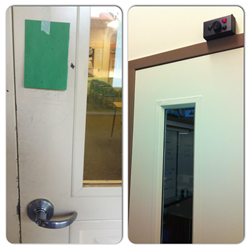 By automating current archaic procedures, we can improve response time
Palo Alto, CA (PRWEB) October 28, 2014
Schools around the nation are stepping up their efforts to prevent and respond to school-based attacks. Yet these attacks continue, with last Friday's tragedy in Marysville, Washington being the most recent.
The most critical threat to school safety however, is not the possibility of a school shooter or attacker on campus; it is the "Not in my town" mentality—the idea that a Sandy Hook-type of event would only happen in some other town. It is an idea that many school districts are banking on, despite the rise in school-based attacks since Columbine.
In Palo Alto, CA, an area known for serving as an incubator to high-tech companies such as Google and Facebook, there is a new startup company, Safeskoolz, which is focusing its efforts primarily on school safety. The company is made up of concerned parents, all working full-time jobs and meeting every week, hoping to make a difference. They have started a fundraising campaign through Indiegogo to help their efforts.
"We must prepare the best we can," said the Safeskoolz inventor, founder and local school district employee, Mike Jacobs. "We understand the importance of a well-balanced and rational approach, but we also know that the more layers you have relative to preparedness and security, the safer and more secure an environment is going to be. The best thing we can do is to improve our level of communication. The better we communicate during an emergency, the less people are going to be hurt," said the Safeskoolz founder.
After the Sandy Hook tragedy, Mike Jacobs began working on the Safeskoolz Notifier System. The idea was to bridge the gap of communication from the classroom to first responders. "We are living in the Communication Age. Computers and Smartphones with Internet access have become a regular part of our landscape. There's no good reason why a police officer should have to walk on to a campus during a lockdown and not know where he or she is needed. That isn't fair to our first responders, and it isn't fair to our children. At Safeskoolz, we aim to solve that challenge. We want to make it possible for every 9-1-1 dispatcher to see exactly what is being communicated from the classroom on their computer screen, allowing him or her to communicate conditions immediately to those being dispatched," said Mike.
Officers will be able to login to the Safeskoolz software, giving them real-time visibility into those areas being monitored. In addition to software, Condition Alerts are mounted on the exterior of each classroom. Using high-powered L.E.D. lights and piezo horns, the Condition Alerts are able to communicate the status of each room, above or to the side of each door. By the push of a single button, a teacher can activate the entire system including automatic door locks.
"By automating current archaic procedures, we can improve response time," said Robert Gonzalez, who is a father of three and serving on the Safeskoolz advisory board. Present school procedures require a teacher to run to the door, lock it, barricade it, and quietly huddle with their students in hopes that the attacker will randomly bypass their classroom and first responders will make it in time to save them. "Imagine a teacher having the ability to safeguard their classrooms and their students in a split second from wherever they are standing in the room. We can make that happen," continued Robert. "The challenge we are currently facing is lack of funding. With our Indiegogo campaign, we are hoping to reach the next step in making our passion to safeguard our schools and our children a reality."
For more information about Safeskoolz and how to partner with them, please visit their Indiegogo Campaign