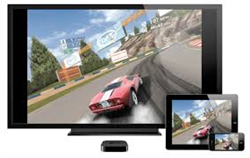 Mirroring360 for Windows and MAC is already enjoyed by hundreds of thousands of people, especially among teachers and business presenters
San Jose, CA (PRWEB) October 28, 2014
Splashtop Inc., the worldwide leader in cross-device computing and collaboration, announces Mirroring360 AirPlay Receiver for Android. Mirroring360 lets users stream or mirror music, movies, TV shows, photos, games, and screens to any Android device. Once installed, Mirroring360 turn user's Android device into an AirPlay receiver. Users can then discover and select the device from the AirPlay menu on iPad, iPhone, iPod Touch, and MAC to start streaming and mirroring!
"Mirroring360 for Windows and MAC is already enjoyed by hundreds of thousands of people, especially among teachers and business presenters," said Mark Lee, Splashtop CEO. "With the expansion of Android-based big screen connected devices like Google Nexus Player and Amazon FireTV, customers have requested for broader platform support."
Top Uses of Mirroring360 AirPlay Receiver for Android:

Wirelessly stream or mirror photos, videos, movies, or more from iOS or MAC to big screen HDTVs connected to Android based settop-boxes, such as Amazon FireTV and Google Nexus Player
Wirelessly share presentations, product demo, and more from iOS or MAC to Android users
Play OS and MAC games on big screen HDTV connected to any Android device. iOS device can become a remote game controller.
Save over 65% today: For a limited time, we are offering each license for only $6.99 (normally $19.99). Bulk purchases are also available (please contact sales@splashtop.com for further information). Visit Google Play, https://play.google.com/store/apps/details?id=com.splashtop.m360.free, and Amazon Android App Store for free test drive.
About Splashtop
Splashtop Inc. delivers the best-in-class cross-screen productivity and collaboration experience, bridging smartphones, tablets, computers, TVs, and clouds. Splashtop remote desktop services enable people to access and control their favorite apps, files, and data via their mobile devices. More than 18 million people have downloaded Splashtop products from app stores, and manufacturing partners including HP, Lenovo, Dell, Acer, Sony, Asus, Toshiba, AMD, Intel and others have shipped Splashtop on more than 100 million devices.
This top performing remote desktop and application access solution is a faster, easier, more cost effective way to address mobile VPN compatibility issues and RDP over WAN. Splashtop has won the prestigious "Most Innovative Product" award from PC World, "Best of What's New" from Popular Science, "Best of 2012 CES" award from LAPTOP Magazine, and is a 2013 Red Herring 100 North America finalist. Splashtop is distributed through MDM / MAM partners and additional resellers. The company is headquartered in San Jose, California with international offices in China, Japan, and Taiwan. For more information visit http://www.splashtop.com
All brand names and product names are trademarks or registered trademarks of their respective companies.