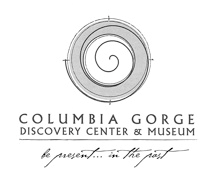 Hood River, Oregon (PRWEB) October 30, 2014
Today the Columbia Gorge Discovery Center & Museum announced the official launch of its new website. Members of the Center or new visitors may have recently noticed a "countdown" ticker on the organization's website – one that heralds a refreshed presence and enhanced brand in keeping with the interpretive center's mission.
"Over the years, we've had many discussions about the 'face' of the Columbia Gorge Discovery Center & Museum," says Kristen May, Visitor Services Manager. "This rebranding effort will equip us to deliver a message that truly reflects our mission using one unified brand." Visitors will note a refreshed logo and an earth-toned palette that reflects Oregon's various climates, from high desert to verdant forest. The new logo, a hand-drawn spiral with compass points, represents the journey of discovery historically associated with Lewis and Clark and expressed through the Center's programs and exhibits.
The rebranding was undertaken by WebRock Design, a Pacific Northwest-oriented branding and website design company. "We were particularly excited to give the Columbia Gorge Discovery Center & Museum a profile boost because it's part of our own community," says founder Alexa Shuman. "We're proud to encourage more 'PNW natives' and visitors learn about this amazing region's history and ecology."
The organization's offerings remain the same, with interactive multimedia exhibits, outdoor activities, and daily live Birds of Prey shows. "Over the coming months, all of our marketing collateral will be updated, starting with our website," says May. Members' cards will similarly be updated to reflect the new brand. "We owe thanks to the Paul Allen Family Foundation for the generous grant that funded this project," notes Carolyn Purcell, Executive Director. "It's really about continuing to offer the most memorable interpretive experience possible."
###
Columbia Gorge Discovery Center & Museum is the official interpretive center for the Columbia River Gorge National Scenic Area. Live raptor shows are presented daily. Hands-on, multi-media exhibits illuminate the cultural and natural history of the Gorge, including Ice Age geology, Native American culture, Lewis and Clark, the Oregon Trail, trade, transportation, ecology, and more. Family friendly, with a Kids Explorer room. Riverfront Trail offers hiking and biking, and a native plant nature trail circles the pond next to the museum. The Discovery Center is located off I-84 at exit 82, 5000 Discovery Drive, The Dalles, Oregon, 97058. Open daily from 9 a.m. to 5 p.m. Museum adult admission is $9, seniors $7, kids 6 to 16 are $5, and children 5 and under free. Basalt Rock Café is open Tuesday -Sunday, and Columbia River Trading Company museum store is open daily. For more information, phone (541) 296-8600 x 201, or visit http://www.gorgediscovery.org.
WebRock Design is a design firm serving the Pacific Northwest, with offices in Hood River and Portland, Oregon. The company offers a variety of products and services including professional and affordable web design, e-commerce, graphic design, chamber and county web packages, website maintenance, and search engine marketing. WebRock takes pride in creating on-time, on-budget custom solutions that are affordable, engaging and extend clients' business objectives. Visit http://webrockdesign.com for more information.