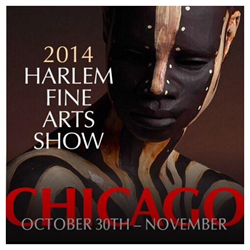 "I just love Nora's aesthetic. Her work floats somewhere between painting and sculpture."
Chicago, IL (PRWEB) October 28, 2014
Mixed media artist Nora Musu has been selected to exhibit her artwork at the 2014 Harlem Fine Arts Show hosted in Downtown Chicago, October 31 – November 2. Musu's work will be featured amongst a collection of artists curated and presented by Faie Afrikan Art Gallery, where she recently debuted her "Mah Rhythm" collection.
"I just love Nora's aesthetic," said gallery owner Faye Edwards. "Her work floats somewhere between painting and sculpture."
Musu has earned renown for her use of an innovative blend of acrylic polymer, iron and copper particles, further enhanced by a process of rusting and patina. The result is a three-dimensional sculptural relief effect that is reminiscent of ancient African stone and wooden sculpture.
Her featured pieces on exhibit, "Scarification" and "Malala's Honor," utilize this process to explore a common West African practice of scarification. "For some it evokes honor, others shame," said Musu, who is of Liberian descent. "I think these markings are beautiful. They signify important life events -- from rites of passage to ceremonies of protection. They also signify belonging to a certain group or culture. I'm interested in exploring this more and finding new ways of beholding and expressing beauty."
Faie Afrikan Art Gallery will also feature works from renowned doll-maker Rukiya Brown and mixed media/sculpture artist D. DelReverda-Jennings, among others. "It promises to be very outstanding group," Edwards said. "This is the first year that [HFAS] has come to Chicago and the first time that I've exhibited. It's a new venture that I hope will place the gallery and all of the artists in front of a new audience."
The Harlem Fine Arts Show is one of the largest and most prestigious collections of works featuring emerging and established African-American artists from around the world. In its fifth year, the HFAS has brought its annual event on tour to the cities of Atlanta, Martha Vineyard and, now, Chicago. More than 10,000 art aficionados are expected to attend the three-day exhibit. Artists from past shows have included Leroy Campbell, Danny Simmons, Corinthia Peoples, Elizabeth Baez, Woodrow Nash and True African Art.
The 2014 Harlem Fine Arts Show Chicago takes place place October 30 - November 2 at The Merchandise Mart, located at 222 W Merchandise Mart Plaza, Chicago, IL. Proceeds from the opening reception on October 30 will benefit The DuSable Museum of African American History and the South Side Community Arts Center. The exhibit will run October 31– November 2.
For more information on Nora Musu, visit noramusu.com. To purchase advanced tickets to HFAS, please visit hfas.org.
# # #
About Nora Musu
Nora Musu is a Liberian-American artist whose art and life experience epitomize an organic multiculturalism that transcends boundaries. Musu's pieces have been exhibited internationally, including the DuSable Museum (IL), the Museum of Science and Industry (IL) and the United Nations. Musu currently resides in Columbus, OH. She also holds a BS in Business Administration from Franklin University.
About Faie Afrikan Art Gallery
Faie Afrikan Art Gallery strives to make quality artwork from Western, Eastern, Central and Southern regions of Africa -- usually found in private collections and museums -- accessible to wider audiences. The gallery began in 1995 with a trip to Mali and Guinea in West Africa and evolved into a quest to explore the art of the continent and celebrate the connections to tradition, family, the ancestors, and the belief in the Omnipresence of the Spirit. Faie Afrikan Art Gallery continues to share in the discovery of beautiful, authentic art made in Africa by traditional craftsmen. For more information, visit http://www.faieafrikanart.com.