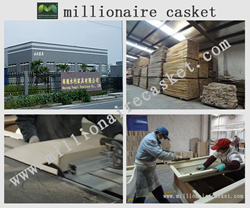 (PRWEB) October 27, 2014
Recently, MillionaireCasket.com, a well-known funeral product manufacturer, has unveiled its new range of gauge metal caskets. Additionally, it has updated its product and launched a promotion for these new items.
"We are happy to release our new collection of gauge metal caskets. We have listed all the information about these new items on our website because we want to help clients make a shopping decision more efficiently. It is true that our gauge metal caskets are made from durable materials. Now, all of them are offered at discounted prices, up to 30% off. All clients who place an order before November 11 can enjoy the special offer," the CEO of the company says.
Along with gauge metal caskets, MillionaireCasket.com is also offering thousands of high-quality products on its website, including poplar caskets, oak caskets, cherry caskets, mahogany caskets and many others. According to the company's chief executive officer, worldwide clients can see the detailed information about the new items on its website.
On its website, clients can always get useful products at affordable prices. Owing to its simplified buying process, worldwide people don't need to spend much time to order what they want. As a pioneer in the industry, MillionaireCasket.com often runs in front of other companies. It offers thousands of top-quality items for distributors.
About MillionaireCasket.com
MillionaireCasket.com is a leading casket company that focuses on the business of casket wholesale. This company offers an exquisitely crafted line of all kinds of metal caskets, solid wood caskets, veneer caskets, cremation caskets, rental caskets, orthodox caskets, infant- or over-sized caskets and European style coffins. The standard quality control policy is strictly applied here, and a third party quality assurance is also available. More information can be found at http://www.millionairecasket.com/77-18-gauge-metal-caskets.